Events
---
Back to Events
Learn The Quechan Language Dictionary Workshop
Events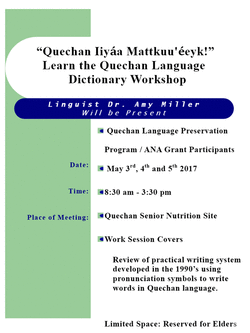 Work session covers: review of practical writing system developed in the 1990's using pronunciation symbols to write words in Quechan language.
Linguist Dr. Amy Miller will be present.
Wednesday, May 3, 2017 through Friday, May 5, 2017 at the Quechan Senior Nutrition Site from 8:30 am to 3:30 pm.
Quechan Language Preservation Program/ANA Grant Participants
Limited space: reserve for Elders.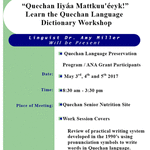 Upcoming Events
---