Physical Address:
1901 Agnes Road #3
Winterhaven, CA 92283
Mailing Address:
PO Box 1899
Yuma, AZ 85366-1899
Phone:
(760) 919-3410 ext. 312
Cell:
(928) 919-1721
The Tribal Employment Rights Office is established to promote Equal Employment and business opportunities for Native Americans residing on the Quechan Indian Reservation.  The TERO office also manages and coordinates safety education for all Tribal employees.
---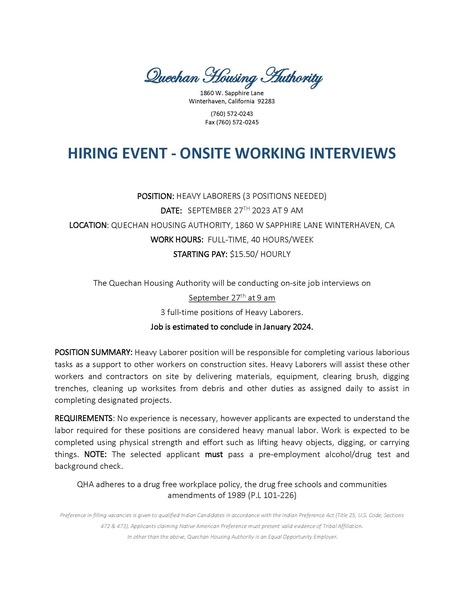 ---
ATTENTION TERO PARTICIPANTS
Accepting Applications for Andrade West Barrier Replacement Project
BARNARD Construction Company, Inc. is now accepting applications for the Andrade West Barrier Replacement project.
In order to be considered for this project, must be active TERO participant and be able to Pass a Pre-employment drug test and background check for approval to gain access to the site.
Apply here:
https://jobs-barnard-inc.icims.com/jobs/search?ss=1&searchLocation=12781-12789-Andrade
For more information contact TERO (760) 919-3410 ext. 312 or email teroofficer@quechantribe.com
Positions Available
• Construction Carpenter
• Heavy Equipment Operator
• Ironworker
• Construction Laborer
• Heavy Equipment Mechanic
• Truck Driver
---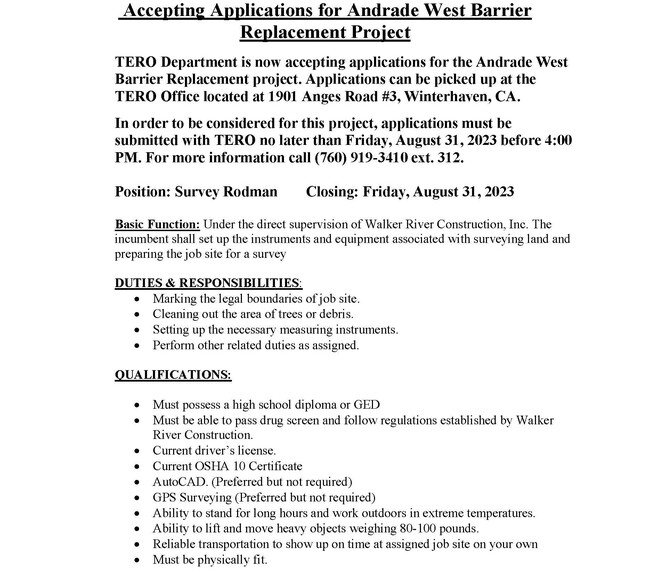 Information Pamphlets can be accessed here:
Upcoming Events
---