Physical Address:
401 E Picacho Road
Winterhaven, CA 92283
(Inside the Fort Yuma Health Care Center)
Mailing Address:
PO Box 1899
Yuma, AZ 85366-1899
Phone:
(760) 572-4838
Fax:
(760) 572-4837
In case of phone line outage:
Please call ADAPP Cell Phone Number:
(928) 919-3602
---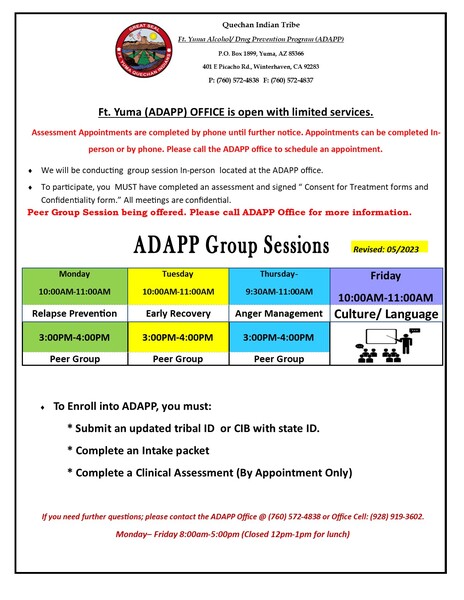 ---
Mission Statement
To provide education and treatment to our members.  Provide prevention services to youth and promote family unity.  Ft. Yuma ADAPP will assist members in their efforts to comply with legal conditions.  All services are individualize and ongoing and delivered without judgment or prejudiced assisting individuals to develop and maintain their own recovery program.
Services
Individual treatment plan
Clinical assessment
Compliance letters
Special court appearances
Transportation
Group sessions
Individual sessions
Youth group
 Types of Groups
Relapse Prevention
Early Recovery
Language/Culture
Anger Management
Wellness
Peer Support
MRT
All staff are license and certified to provide group sessions.
Youth Program
The structure program is a year round guided towards empowerment and healthy living.
Participants will be provided transportation from schools and residence.  Activities consist of field trips, homework assistance, and prevention to drugs and alcohol use.  Youth will participate in wellness conferences, your events, and cultural events.  Youth program is open to ages 12 through 18.
Group/Events Calendar:
Upcoming Events
---