Contact:
Quechan Tribal Court
Address:
450 Quechan Drive
Winterhaven, CA 92283

Mailing Address:
PO BOX 1899
Yuma, AZ 85366
Phone:
760-572-5552
Fax:
760-572-5560
---
The public may call an alternate number for now until the Court phones are working, Please call (928) 919-0309. In case of emergency call QPD at (928) 941-7539.
Please call to schedule your appointment to meet with the Deputy Court Clerk. Mask are required ; When you arrive for your appointment just knock on the door the Court Security will notify the DCC. Meeting will take place outside with social distancing in place. Pens and Clip board will be provided if needed.
QPD temporary dispatch number is 928-941-7539
Updated 05/18/2023: Court hearings that were scheduled for March 25, 2021 have been rescheduled to April 22, 2021. Appropriate notice will be mailed out to parties. Sorry for the inconvenience.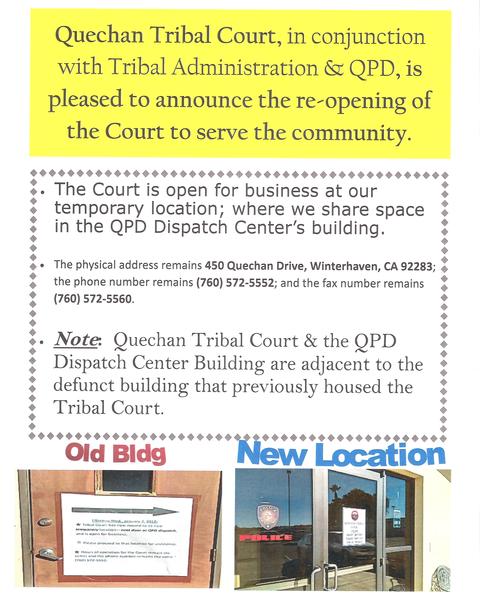 Court Staff:
Honorable Juan Ulloa, Pro-Tem Judge
Barrie Tibbitts, Court Clerk
Lydia Rodriguez-Patane, Deputy Court Clerk
Alex Cardenas, Executive Director/Quechan Tribal CASA
Mission Statement: Establish justice; insure tranquility; promote general welfare; safeguard interest; and secure blessings of freedom and liberty for the Quechan Indian Tribe and for its posterity. Together We Progress!
The Quechan Tribal Court is a Court of "general jurisdiction" that hears many types of cases, below is a listing of some of the types of cases heard. -Divorce/Annulments -Guardianship-Dependency-Civil Claims-Evictions-Probate-Civil/Family Cases-Criminal-Orders of Protection
Notary Services: The Quechan Tribal Court offers notary services between the hours of 8:00am-5:00pm. We are closed during the lunch hour of 12:00pm-1:00pm. Preferably call ahead to schedule notary services so that time can be provided/scheduled to assist you.
Law Library: The Quechan Tribal Court has a small law library within our building and will allow you the opportunity to come review California Codes or Arizona Revised Statutes, additionally the Quechan Law and Order is available for review and related ordinances. The Court maintains some selected law books in specialty areas which may also be helpful. Included in the law library's materials are some cd materials that can also be utilized. A computer station with internet and printing capabilities is also available for use.
Quechan Law and Order Code Title 6 Juvenile Code
Resolution of the Quechan Tribal Council Amending Section 2.1.8.E of the Quechan Law and Order Code
Quechan Law and Order Code Title 2 Tribal Court System
Upcoming Events
---