Upcoming Events
---
Dec
10
2022
3:30 PM
to 8:00 PM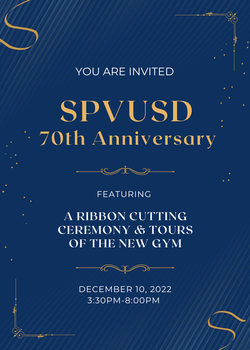 You are invited to the SPVUSD 70th Anniversary.
Featuring a ribbon cutting ceremony and tours of the new gym on Saturday, December 10, 2022 from 3:30 pm to 8:00 pm.
Dec
21
2022
3:30 PM
to 5:30 PM
Please join us for dinner on Wednesday, December 21, 2022 from 3:30 pm to 5:30 at the Vendor Square.
Enjoy a delicious bowl of stew with frybread provided by Ghiotto's Frybread and enjoy kettle corn to take home with you provided by Rod Hart.
Own bowl per person, must sign in to receive a ticket from ADAPP staff member.
Sorry, no deliveries. No purchase necessary.
Any questions, please call ADAPP department at (760) 572-4838.
Upcoming Events
---