Upcoming Events
---
Oct
24
2019
5:30 PM
to 12:00 AM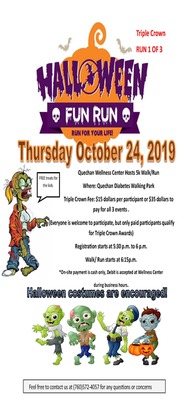 Quechan Wellness Center Hosts 5k Walk/Run.
Thursday, October 24, 2019 at the Quechan Diabetes Walking Park. Registration starts at 5:30 p.m. to 6:00 p.m. Walk/Run starts at 6:15 p.m.
Triple Crown Fee: $15 dollars per participant or $35 dollars to pay for all 3 events. On-site payment is cash only, Debit is accepted at Wellness Center during business hours.
Everyone is welcome to participate, but only paid participants qualify for Triple Crown Awards.


Nov
1
2019
6:03 PM
to 9:00 PM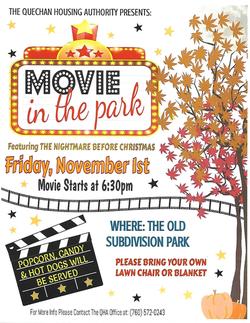 The Quechan Housing Authority presents "Movie in the park" featuring The Nightmare Before Christmas. Friday, November 1, 2019 at 6:30 pm at the Old Subdivision park.
Please bring your own lawn chairs or blanket.
For more information please contact the Quehan Housing Authority office at (760) 572-0243.
Upcoming Events
---