Departments
---

Quechan Housing Authority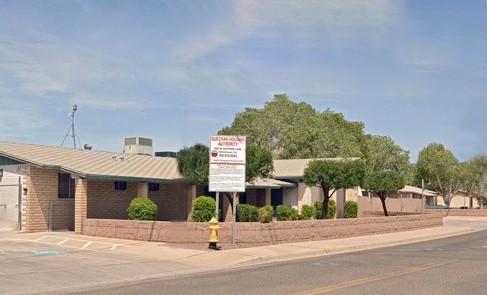 Main Contacts:
Andreana Jackson
Executive Director
Donald Medart Jr.
Facilities Director
Robin Wilson
Finance Director
Larry Morris
Security Captain
Eva Castro
Executive Secretary
Leticia Godoy
Occupancy Specialist
Lizzette Johnson
Homeownership Counselor/Tax Credit Specialist
Suzanne Contreras
Compliance Specialist
Physical Address:
1860 W. Sapphire Lane
Winterhaven, CA 92283
Mailing Address:
1860 W. Sapphire Lane
Winterhaven, CA 92283
Office: (760) 572-0243
Fax: (760) 572-0245
Hours of Operation:
Monday-Friday
8:00AM-5:00PM
QHA Board of Commissioners:
RoseAna Douglas
Chairperson
Anthony Palone
Board Member
Travis Owl Jr.
Vice Chairperson
Sandra Barrutia
Board Member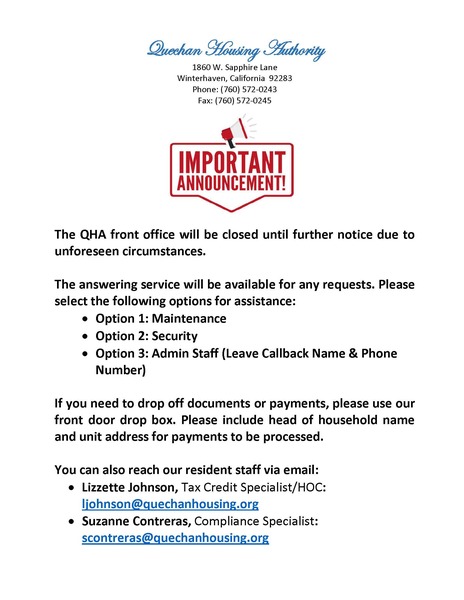 ---
---
Mission Statement:
To provide safe, sanitary, and affordable housing for the Quechan Indian people by creating new housing opportunities and sustain existing housing stock. To aid in preventing substandard housing conditions, reduce over crowdedness, and homelessness through supportive service programs for the residents we serve.
Background:
The Quechan Housing Authority was established in 1963 as an organization to administer and manage operations to meet the needs of Quechan families on the Fort Yuma Indian Reservation. QHA manages approximately 200 rental and homeownership units under various programs. Throughout the decades, QHA has expanded their portfolio of funding through the 1937 Housing Act (37 Act), Native American Housing Assistance and Self Determination Act (NAHASDA), Indian Housing Block Grant (IHBG), Tribal Funds, and Low Income Housing Tax Credit Programs.
QHA is always striving to seek opportunities to provide rehabilitation services to our tribal homeowners in need of improvements. We have the ability to provide sustainable services with the assistance of USDA Rural Development, Indian Health Service (IHS), and the Indian Community Development Block Grant (ICDBG). QHA continues to seek new grants and maximize current sources to provide the best services available to our residents. The Quechan Housing Authority's ultimate goal is to progress in creating new affordable housing and supportive opportunities for Quechan families.
New Development:
The Quechan Housing Authority received an award of Low Income Housing Tax Credits (LIHTC) from the California Tax Credit Allocation Commission (CTCAC) in December 2019. QHA is currently rehabilitating 38 single-family homes in the Ironwood Subdivision located east of the San Pasqual Valley Unified School District.
The project design will incorporate several green building techniques to support lower energy consumption and costs. Each home will also receive a new solar array. It is projected the rehabbed homes will have at least a 20% improvement over current energy use.
The project includes a rehab of the Ironwood Community Center. It will receive a new façade, covered overhangs, and patio. The Ironwood community playground and basketball court will also receive an upgrade. The QHA Homes II project has an anticipated completion date of December 2021.
---
The Quechan Housing Authority is currently accepting applications for the (1) Part-Time position of Security Officer.
The incumbent will guard and protect all Quechan Housing Authority (QHA) sites and property within the assigned areas. This person will report directly to the Security Captain.
REQUIREMENTS: High school diploma or general education degree (GED), Vocational Training preferred, and (4) years' related experience or training, or equivalent combination of education and experience. Knowledge and ability to operate office equipment, familiar with office computer software and office practice and procedures. Completed Security Officer Training.Have minimum knowledge of cell phone and two-way radio operations.
The selected applicant must pass a pre-employment alcohol/drug test, background check and must obtain a California Guard Card.  All applicants must be insurable and have a valid driver's license with no violations.
QHA adheres to a drug free workplace policy, the drug free schools and communities amendments of 1989 (P.L 101-226).
To be considered for position submit application in person at Quechan Housing Authority 1860 W. Sapphire Lane, Winterhaven CA
Or by email to Eva Castro at evacastro@quechanhousing.org
This Job Announcement is subject to §7(b) of the Indian Self-Determination and Education Assistance Act (25 U.S.C. §450d (b) and §3 of the Housing and Urban Development Act of 1968. Section 7(b) requires that to the greatest extent feasible preference and opportunities for training and employment shall be given to Indians. All persons claiming Indian Preference must include documentation satisfactory to show that they are enrolled members of federally-recognized tribes. Quechan Housing Authority is an Equal Opportunity Employer.
---
Click on link to view:
Quechan Housing Newsletter May 2017
Quechan Housing Newsletter April 2017
Quechan Housing Newsletter March 2017
Quechan Housing Newsletter January 2017
Quechan Housing Newsletter February 2017
Quechan Housing Newsletter December 2016
Upcoming Events
---