Departments
---
Economic Development
Last Page Update: 06/05/2023:
---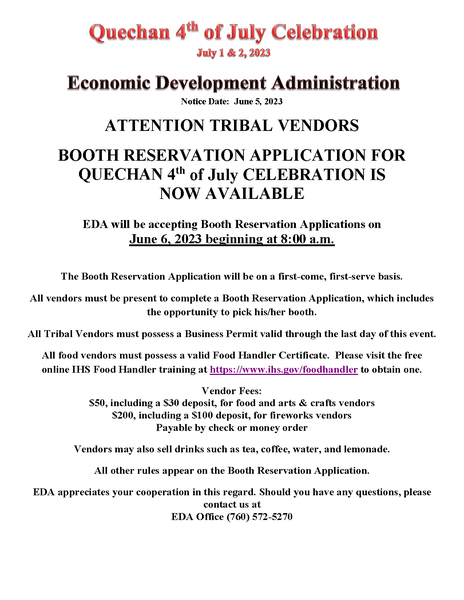 ---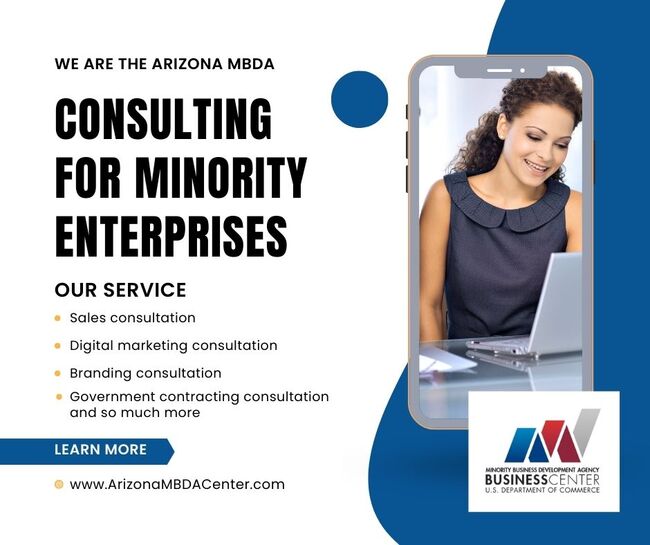 The Arizona MBDA Business Center is funded by the US Department of Commerce and locally operated by the Arizona Hispanic Chamber of Commerce. The Center serves all minority entrepreneurs pursuing size, scale, and capacity growth, including any Native American-owned business enterprise. The MBDA services are free to Tribal VME business owners, and a local MBDA Business Counselor (Ms. Vanessa Castillo Bell) is available for consultations in the Yuma area. Contact Vanessa today for your free business consultation!
https://arizonambdacenter.com/contact
---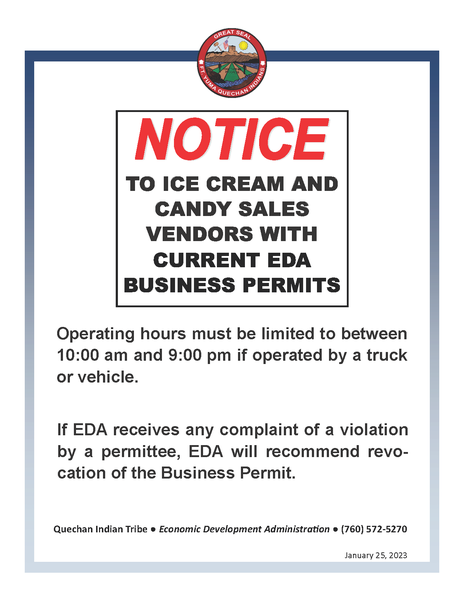 ---
---
Why Economic Development on the Fort Yuma Indian Reservation?
Streamlined Tribal business permit process
Commercial lease space available – on and off the Reservation
Daily Space Rental for commercial use (Pop-Up business opportunities)
Great highway transportation system including interstate freeway to and from major metro areas
Indian reserved senior water rights on the Colorado River
Workforce diversity (i.e., women-owned, veteran-owned, and Native-owned business enterprises)
Effective tribal transit system connecting destinations within the Reservation, Yuma, and El Centro
On-reservation water and sewer, fiber-enhanced telecom and broadband, and power grid infrastructure
Joint venture possibilities (Indian and non-Indian owned enterprises)
State (CA) sales tax exemptions
Federal tax credits
SBA HUBZone designation (for US Government procurement opportunities)
International supply chain access (via Andrade CA Port-of-Entry)
1.6 million potential customers live within 60 miles of the Reservation
---
---
SMALL BUSINESS DEVELOPMENT CENTER (SBDC) @ ARIZONA WESTERN COLLEGE & IMPERIAL VALLEY SBDC NETWORK
SBDCs are funded partly by the US Small Business Administration (SBA) and other state and federal resources and are committed to your business success!
They specialize in Native-owned, minority-owned, women-owned, and veteran-owned small businesses. Make that call to set an appointment today!
Their business counseling services are:
 
Practical - They have over three decades of experience helping Yuma-area and Imperial County small businesses succeed
 
Confidential - All SBDC clients – including Tribal VMEs – businesses and related information are kept strictly confidential - the SBDC will not sell or provide your information to anyone without your permission.
 
No-Cost - SBDC business counseling services are no-cost to businesses and entrepreneurs, including all Tribal VMEs, regardless of business size or stage.

AWC SBDC
 
Please use this link to register for online (virtual), telephone, or in-person small business counseling services at the AWC SBDC: or visit the SBDC in person at the Arizona Western College Downtown Center (1351 S. Redondo Dr, Ste 101 – next to the Yuma Radisson Hotel )
Or call #TeamSBDC to schedule an appointment that fits your schedule!
Please reach out to:

Leticia Williams,  SBDC Senior Secretary
Office: (928) 317-6151

Visit the Arizona Western College SBDC website!
 
IMPERIAL VALLEY SBDC
 
The Imperial Valley SBDC offers many ongoing free business webinars and other training calendar events to help start and grow your small business here on the Fort Yuma Indian Reservation. Most webinar training is available remotely (live and on-demand video.)
Please reach out to:
 
Jaysel Mendoza, SBDC Director 
 
Office: (760) 312-9800
Mobile: (760) 562-5542
2799 S 4th St El Centro, CA 92243 
 
Please use this link to register for online (virtual), telephone, or in-person small business counseling services with Imperial Valley SBDC.
 
Visit the Imperial Valley SBDC website!
---
Vendor's Square Information -
Please visit the EDA office to reserve a Vendor's Square space (at 475 Quechan Drive)  for Daily Use.
All vendors must have a current Tribal Business Permit on file.
All Food Vendors must also have a current Food Handler Card or equivalent certificate.
For additional Vendor's Square details, please contact: edaasstplanner@quechantribe.com
---
Business Permit Application Now Available to Complete Online

Need to obtain or renew a Business Permit?  Please click here to complete and submit your Business Permit Application online.  However, we remain unable to process payments by credit/debit card or online.  For additional details, please contact us at edaasstplanner@quechantribe.com
---
Leasing Opportunities (click on property name to see information):
No opportunities at this time.  Please check back occasionally for updates.
For additional details or to submit a proposal to lease, please contact Brian Golding, Sr., at b.golding@quechantribe.com
---
 SERVICES ON THE RESERVATION 
The price of gasoline locally is quickly approaching $5 per gallon!
EDA encourages all Reservation residents, Tribal members, casino employees, and Tribal employees to consider using affordable transit services provided by the Yuma County Area Transit (YCAT) system.
You can connect to the Yuma County Intergovernmental Public Transportation Authority (YCIPTA) website for the latest YCAT news and updates by clicking on the link below:
You will have access to YCAT schedules, fares, bus passes, system maps, rider guides, news & updates, a calendar of events, and Rider Alerts.
Turquoise Route 10 (Interstate 8/El Centro/Yuma) and Blue Route 5 (Quechan Shuttle) are partly funded by the Quechan Indian Tribe and Imperial County Transportation Commission (ICTC), which are operated by the Yuma County Intergovernmental Public Transportation Authority (YCIPTA).
Upcoming Events
---