Departments
---
Economic Development
Physical Address:
604 Picacho Road
Winterhaven, CA 92283
Mailing Address:
PO Box 1899
Yuma, AZ 85366
Phone:
(760) 572-5270
Fax:
(760) 572-0519
Last Page Update: 05/26/2022:
Food Vendors must have a current Food Handler Card/Certification or comparable documentation and display such documentation while serving customers on the Reservation.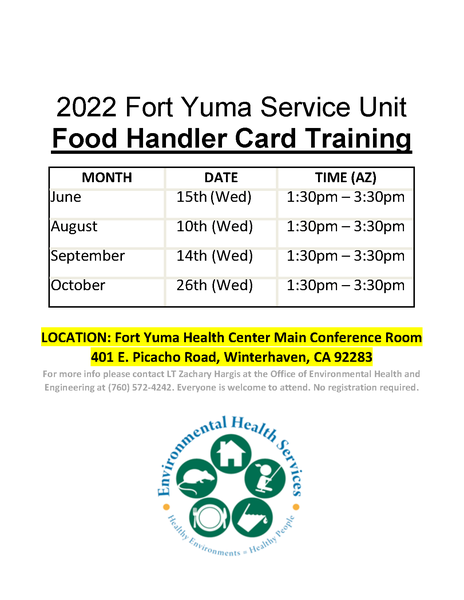 ---
Small Business Development Center (SBDC) at Arizona Western College
SBDC is funded by the US Small Business Administration (SBA) and other state and federal resources and is committed to your business success! 
SBDC business counseling services are:
Practical - They have over three decades of experience helping Yuma-area small businesses succeed
Confidential - All SBDC clients – including all Tribal VMEs – their businesses and related information are kept strictly confidential - the SBDC will not sell or provide your information to anyone without your permission.
Free - SBDC business counseling services are provided free of charge to businesses and entrepreneurs, including all Tribal VMEs, regardless of business size or stage.
Please use this link to register for online (virtual), telephone, or in-person small business counseling services at the SBDC;
or visit the SBDC in person at the Arizona Western College Downtown Center (1351 S. Redondo Dr, Ste 101 – next to the Yuma Radisson Hotel) (Google Map directions);
or call the friendly SBDC Team to schedule an appointment that fits your schedule - (928) 317-6151
The AWC SBDC specializes in minority-owned, women-owned, and veteran-owned small businesses. Make that call to set an appointment today!
---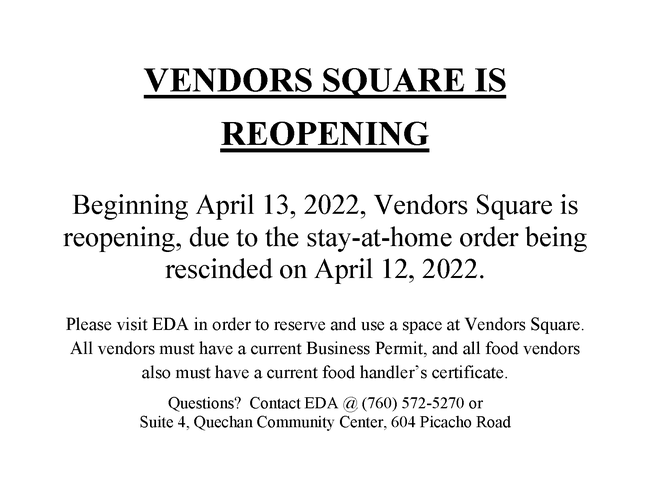 ---
Economic Development Administration Newsletter -
---
Tribal-citizen Youth interested in attending the Native Youth in Food and Agriculture Leadership Summit held at the University of Arkansas in Fayetteville, AR, July 19 - 26, 2022, should also learn more about the opportunity using the e-newsletter link, and let the Economic Development Administration know of their interest in participating. EDA is working on learning more details about this Leadership Summit. Contact EDA at: edaspecialist@quechantribe.com
Tribal Youth are encouraged to complete the Youth Survey using the e-newsletter link.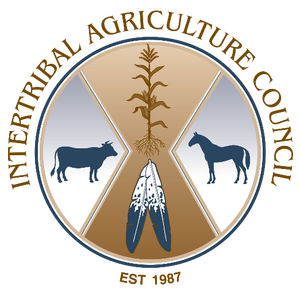 The Intertribal Agriculture Council (IAC) offers Professional Development programming in response to the growing concerns surrounding aging populations in the agriculture industry. We wholeheartedly believe that Native youth are both the current and future leaders we need to realize Tribal food sovereignty goals in our communities. IAC provides direct support through individualized mentoring, internships, scholarships, fellowships, general resume building, technical assistance, and more to assist in realizing bright futures in all Indian Country agricultural and food system endeavors. The IAC has been working with various like-minded programs and organizations to bring opportunities that can be accessed by any interested youth.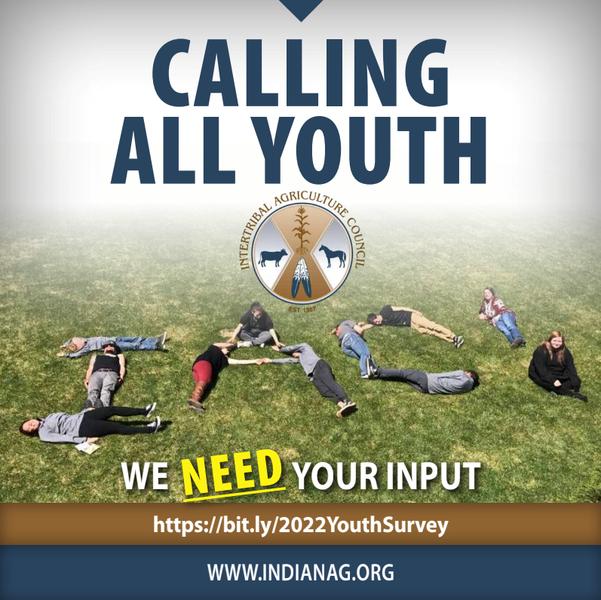 As we navigate the pandemic, we are working towards strengthening our youth and professional development virtual engagements and opportunities. Please help us examine the needs of youth and young professionals across the nation by filling out the survey below.

Complete our survey and enter to win your choice of an iPad mini or an Amazon echo dot. Three winners will be chosen at random and announced on May 6th, 2022.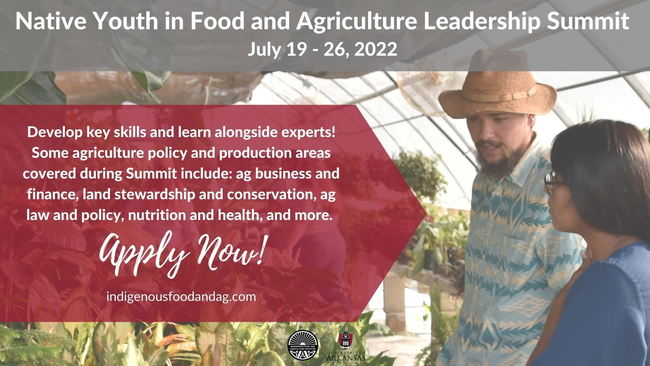 The Indigenous Food and Agriculture Initiative is hosting its annual Native Youth in Food and Agriculture Leadership Summit held at the University of Arkansas in Fayetteville, AR, July 19 - 26, 2022. This year's Summit will build on previous Summits and include a NEW Policy Leadership Program. The 2022 Summit will be a skills-development-focused event that will give attendees an opportunity to do a deep dive into a particular area of food and agricultural production or policy. These four subject matter areas are:

1) Agricultural Business and Finance;
2) Land Stewardship and Conservation;
3) Agricultural Law and Policy; and
4) Nutrition and Health.

While at the Summit, experts will lead instruction in each of these areas and participants will have the opportunity to learn skills to apply to a capstone project with a small group of peers. Following the completion of capstone projects, attendees will take part in a three-day student congress experience, which provides insight into the formation of federal agriculture policy that impacts Native farmers and ranchers by modeling a Senate or House agriculture committee.
Learn more about the Ag Summit Here!
---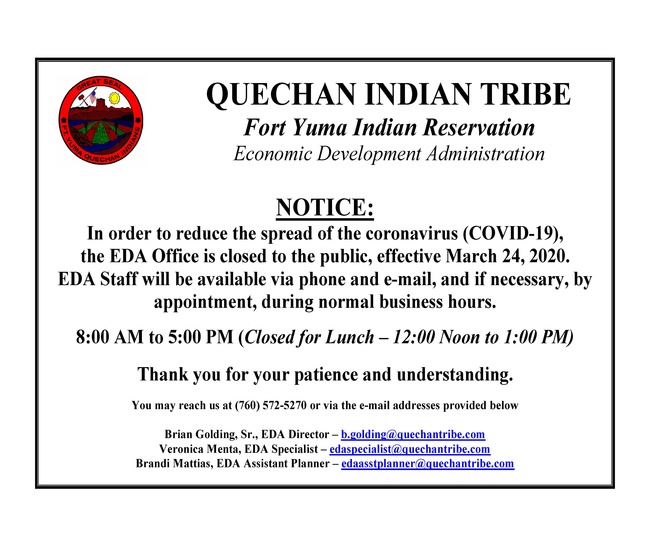 ---
Thousands of acres for industrial and commercial developments. 200 acres adjacent to 1-8 freeway ready for development.
Why economic development on the Quechan Reservation?
Plenty of water
Great transportation system including freeway to and from major metro areas, rail-spur, trucking, and airport.
Clean air
Labor base
Joint venture possibilities
Tax advantage
International border
Business Permit Application Now Available to Complete Online

Need to obtain or renew a Business Permit?  Please click here to complete and submit your Business Permit Application online.  However, we remain unable to process payments by credit/debit card or online.  For additional details, please contact us at edaasstplanner@quechantribe.com
Leasing Opportunities (click on property name to see information):
No opportunities at this time.  Please check back occasionally for updates.
For additional details or to submit a proposal to lease, please contact Brian Golding, Sr., at b.golding@quechantribe.com
Entrepreneurship (click on topic to see information):
Merchants Meeting – details to be discussed and opportunity to share your thoughts
Posted:  03/20/2020
 SERVICES ON THE RESERVATION 
EDA encourages all community members, tribal members, and employees to use our transit services provided by the Yuma County Area Transit (YCAT) system.
You can connect to the Yuma County Intergovernmental Public Transportation Authority website by clicking on the link below:
There you will have access to find Schedules, Fares, Passes, System Maps, Riders Guides, News & Updates, Calendar of Events, and Rider Alerts.
Turquoise Route 10 and Blue Route 5 is funded in part by the Quechan Indian Tribe and Imperial County Transportation Commission (ICTC) and is operated by Yuma County Intergovernmental Public Transportation Authority (YCIPTA).
YCAT Returns to Regular Schedules 
On Monday, March 22, 2021, YCAT returned to full/regular schedules. 
On Tuesday, June 1, 2021, YCAT will resume collection of the regular fares for all routes.  Details regarding fares and purchasing passes online can be found at www.ycipta.org/fares-passes.html.
For the latest news and updates, please visit www.ycipta.org.
Upcoming Events
---