Departments
---
Economic Development
Brian Golding, Sr
Director
Veronica Menta
Economic Development Specialist
Brandi Mattias
Assistant Planner
Physical Address:
604 Picacho Road
Winterhaven, CA 92283
Mailing Address:
PO Box 1899
Yuma, AZ 85364
Phone:
(760) 572-5270
Fax:
(760) 572-0519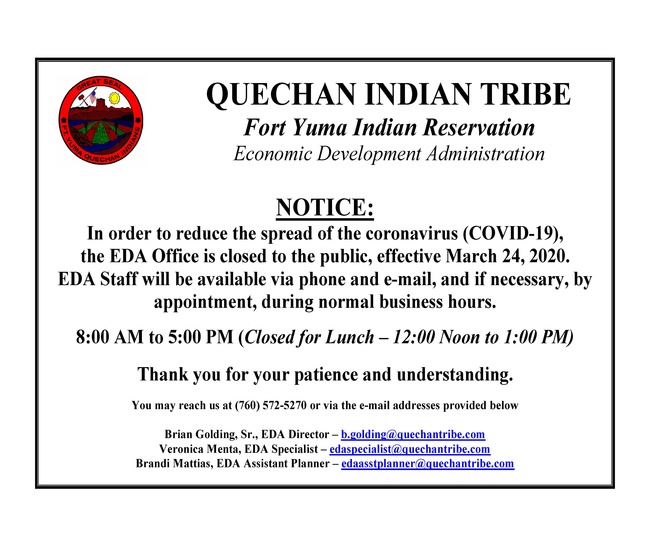 Thousands of acres for industrial and commercial developments. 200 acres adjacent to 1-8 freeway ready for development.
Why economic development on the Quechan Reservation?
Plenty of water
Great transportation system including freeway to and from major metro areas, rail-spur, trucking, and airport.
Clean air
Labor base
Joint venture possibilities
Tax advantage
International border
Leasing Opportunities (click on property name to see information):
No opportunities at this time.  Please check back occasionally for updates.
Entrepreneurship (click on topic to see information):
Merchants Meeting – details to be discussed and opportunity to share your thoughts
Posted:  03/20/2020
 SERVICES ON THE RESERVATION 
EDA encourages all community members, tribal members, and employees to use our transit services provided by the Yuma County Area Transit (YCAT) system.
You can connect to the Yuma County Intergovernmental Public Transportation Authority website by clicking on the link below:
There you will have access to find Schedules, Fares, Passes, System Maps, Riders Guides, News & Updates, Calendar of Events, and Rider Alerts.
Turquoise Route 10 and Blue Route 5 is funded in part by the Quechan Indian Tribe and Imperial County Transportation Commission (ICTC) and is operated by Yuma County Intergovernmental Public Transportation Authority (YCIPTA).