Events
---
Back to Events
Census Takers Door to Door Enumeration
Events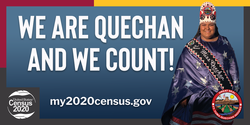 "For every Native living on a Reservation not counted, it's approximately $3,000 that their Tribal Community loses out on. That's per year, so over a ten year period it's approximately $30,000" Governor of the Chickasaw Nation, Bill Anoatubby
On Saturday, September 12 and Monday – Friday, September 14-18 ,2020 U.S. CENSUS BUREAU CENSUS TAKERS WILL BE GOING DOOR TO DOOR IN THE SUBDIVISIONS AND THE SCATTERED SITE HOMES to conduct CENSUS OPERATIONS which include interviewing ONE MEMBER OF THE HOUSEHOLD, validating CENSUS information for Self-Response, or completing incomplete Census.
PLEASE KEEP A LOOKOUT FOR THEM AND THE TRIBAL CENSUS ESCORTS.
PLEASE KEEP ALL ANIMALS SECURED!
Thank you, Quechan Count Team
Attention Community Members
The Animal Control Department would like to remind all animal owners who live on the Quechan Indian Reservation that they are to comply with the Animal Control Ordinance.
The Quechan Count team is currently assisting with escorting Census Takers around Fort Yuma Reservation. Door to Door Enumeration will begin Saturday, September 12, 2020 thru Friday, September 18, 2020 all day. The Animal Control Department would like the communities cooperation with ensuring a safe environment during their Door to Door Enumeration around the Fort Yuma Reservation.
Download

Community Notice - Census
(246 KB)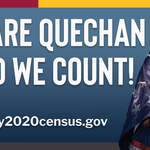 Upcoming Events
---