Latest News
---
Back to Articles
Workers Wanted For Quechan Indian Days Celebration
Tribal and Non-Tribal workers wanted for the Quechan Indian Days Celebration.
The Quechan Human Resources Department is seeking (15) Tribal Members and Non-Tribal Member applicants to temporarily supplement the workforce for the upcoming Quechan Indian Days Celebration on October 13, 2022 to October 16, 2022.
The coverage area for this location will be under the direction of the Grounds and Landscape Supervisor Mr. Michael Jackson Jr.
Temporary Announcement:
The opening of this Temporary Assignment will be open until filled.
Applications can be picked up at the Quechan Human Resources Department located at the Quechan Tribal Administration Office on Monday, September 19, 2022. The hourly rate for this Temporary Position is $15.00 per hour.
Please be advised all CDC Guidelines will be enforced and each applicant will be required to
wear a face covering upon entrance into the Tribal Administration Office.
Basic Qualifications:
Must be 18 Years of age
Enrolled Quechan Tribal Member or Non-Tribal Member Valid Identification. Must pass a Urinalysis and Background Check.
Human Resource Contact Information:
Mrs. Amber Cachora-Espino, Human Resources Director
Telephone (760) 919-3600 EXT-280/ Tribal Cell (928) 920-0035
Ms. Jessica Roosevelt, Quechan Human Resource Clerk
Telephone (760) 919-3600 EXT-279/ Tribal Cell (928) 920-6079
The Quechan Human Resources Department will be available onsite to accept employment applications and assist each applicant in the process.


Download

Quechan Indian Days Celebration
(175 KB)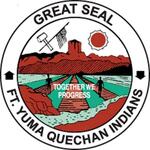 Upcoming Events
---