Latest News
---
Back to Articles
Urgent Notice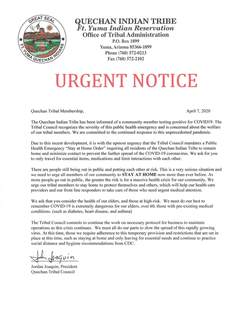 The Quechan Indian Tribe has been informed of a community member testing positive for COVID-19. The Tribal Council recognizes the severity of this public health emergency and is concerned about the welfare of our tribal members. We are committed to the continued response to this unprecedented pandemic.

Due to this recent development, it is with the upmost urgency that the Tribal Council mandates a Public Health Emergency "Stay at Home Order" requiring all residents of the Quechan Indian Tribe to remain home and minimize contact to prevent the further spread of the COVID-19 coronavirus. We ask for you to only travel for essential items, medications and limit interactions with each other.
There are people still being out in public and putting each other at risk. This is a very serious situation and we need to urge all members of our community to STAY AT HOME now more than ever before. As more people go out in public, the greater the risk is for a massive health crisis for our community. We urge our tribal members to stay home to protect themselves and others, which will help our health care providers and our front line responders to take care of those who need urgent medical attention.
We ask that you consider the health of our elders, and those at high-risk. We must do our best to
remember COVID-19 is extremely dangerous for our elders, over 60, those with pre-existing medical conditions. (such as diabetes, heart disease, and asthma)
The Tribal Council commits to continue the work on necessary protocol for business to maintain
operations as this crisis continues. We must all do our parts to slow the spread of this rapidly growing virus. At this time, those we require adherence to this temporary provision and restrictions that are set in place at this time, such as staying at home and only leaving for essential needs and continue to practice social distance and hygiene recommendations from CDC.

Jordan Joaquin, President
Quechan Tribal Council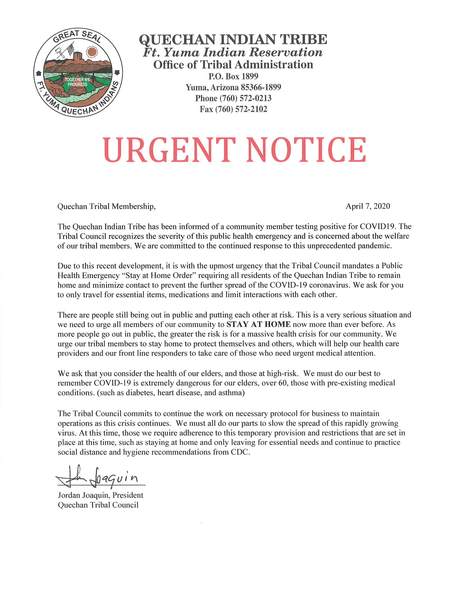 Download

Urgent Notice
(312 KB)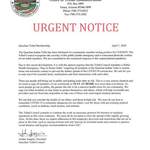 Upcoming Events
---