Latest News
---
Back to Articles
Tribal Council Addresses Corona Virus (COVID-19)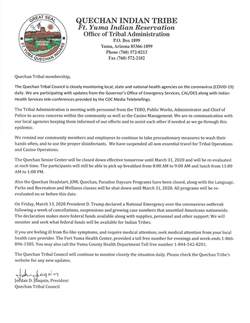 The Quechan Tribal Council is closely monitoring local, state and national health agencies on the coronavirus (COVID-19) daily. We are participating with updates from the Governor's Office of Emergency Services, CAL/OES along with Indian Health Services tele-conferences provided by the CDC Media Telebriefings.
The Tribal Administration is meeting with personnel from the TERO, Public Works, Administrator and Chief of Police to access concerns within the community as well as the Casino Management. We are in communication with our local agencies keeping them informed of our efforts and to assist each other if needed as we go through this epidemic.
We remind our community members and employees to continue to take precautionary measures to wash their hands often, and to use the proper disinfectants. We have suspended all non-essential travel for Tribal Operations and Casino Operations.
The Quechan Senior Center will be closed down effective tomorrow until March 31, 2020 and will be re-evaluated at such time. The participants will still be able to pick up breakfast from 8:00 AM to 9:00 AM and lunch from 11:00 AM to 1:00 PM.
Also the Quechan Headstart, JOM, Quechan, Paradise Daycare Programs have been closed, along with the Language, Parks and Recreation and Wellness classes will be shut down until March 31, 2020. All programs will be re-evaluated on or before this date.
On Friday, March 13, 2020 President D. Trump declared a National Emergency over the coronavirus outbreak following a week of cancellations, suspensions and growing case numbers that unsettled Americans nationwide. The declaration makes more federal funds available along with supplies, personnel and other support. We will monitor and seek what federal funds will be available for Indian Tribes.
If you are feeling ill from flu-like symptoms, and require medical attention, seek medical attention from your local health care provider. The Fort Yuma Health Center, provided a toll free number for evenings and week-ends 1-866-896-1585. You may also call the Yuma County Health Department Toll free number 1-844-542-8201.
The Quechan Tribal Council will continue to monitor closely the situation daily. Please check the Quechan Tribe's website for any new updates.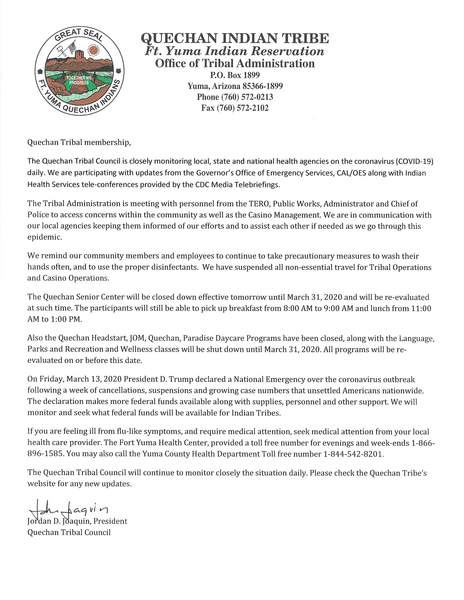 Download

Letter From President
(353 KB)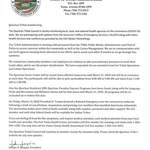 Upcoming Events
---