Latest News
---
Back to Articles
The Quechan Tribe's Three Days Of Christmas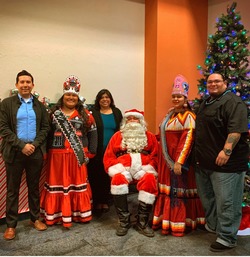 On Friday December 20, 2019, The Quechan Tribe hosted a company-wide Christmas Party for both Tribal & Casino employees at the Yuma Hilton Garden Inn Pivot Point Hotel Conference Center. The company party was the first in many years for the Tribe, with approximately 500 employees attending. The evening events included raffles, dancing, drinks, and hors d'oeuvres, as well as fun and togetherness. The night also served as a celebration of a successful year and as a Thank You to all of the employees who contributed to that success. The Tribal Council would like to recognize the Party Planning Committee and all their efforts to the year-end event.
On Saturday December 21, 2019, The Annual Quechan Community Toy & Gift Card Giveaway was held at The Paradise Event Center, and was attended by close to 1,000 community members. All the Boys and Girls of the Quechan Community were treated to toys, gift cards, cookies, hot chocolate and a visit from Santa Clause who flew in from the North Pole to visit and take pictures! For any enrolled Quechan children, who did not attend, please contact the Quechan Enrollment Department to receive a gift card (760-572-0752). Quechan Tribal Council would like to thank the Quechan Tribal Security Department, Megan & Michelle Montague (QCR), Events Committee member Brandon Durand and Women's Auxiliary Post 802 for helping make the event very special.
On Sunday, December 22, 2019 Community members gathered at The Paradise Event Center for the Annual Quechan Christmas Dinner. The delicious dinner was served by members of the Women's Auxiliary Post 802, Quechan Events Committee, Quechan/Paradise Casino Event Staff and Quechan Tribal Council. We would like to thank the Paradise Casino Food & Beverage, Paradise EVS Staff, and Ms. Quechan America Nerva, Ms. Native San Pasqual Brina Ironcloud (HS), Trisha Castillo (MS) & Aiyana Collins (Elem), and Strong Hearts Kwenamii Jacob Roosevelt for making our community comfortable during the event. We would also like to recognize the Quechan Social Services who delivered approx. 100 dinners to the elderly and homebound community members. And we would like to offer an extra special Thank You to Owen, Michael, Jason & Jacob for ending the night with Bird and Pipa Songs!
Merry Christmas & Happy New Year from the Quechan Tribal Council!
Charles Escalanti, Quechan Tribal Councilmember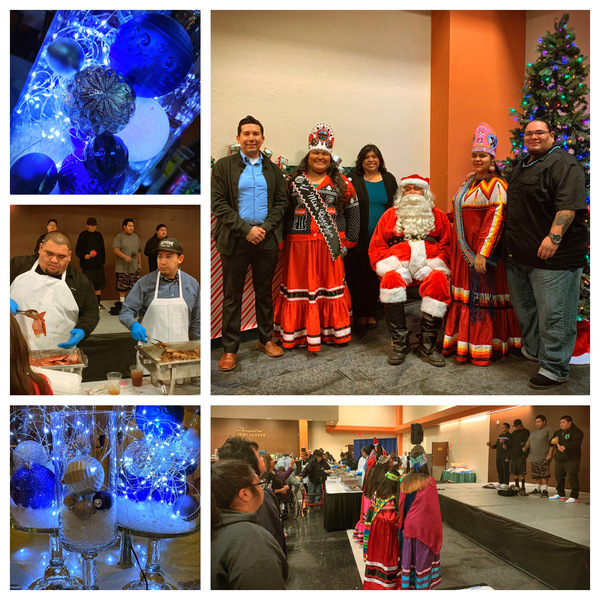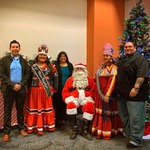 Upcoming Events
---