Latest News
---
Back to Articles
Temporary Closure Of Tribal Operations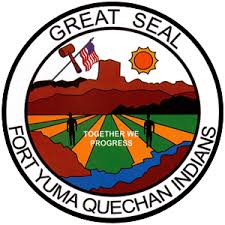 The Quechan Tribal Council, with growing concern for the health and safety of our Tribal membership, employees and the surroundng communities of Yuma and Imperial Counties we have made a decision to temporarily close tribal operations beginning on Friday, November 6, 2020 through November 19, 2020 (subject to change) which is ten (10) business days to slow the spread of COVID-19.
During our closure, the Tribal Administration will be closed to the general public and will only be accessed by authorized personnel until further notice. Below is a listing of the Tribal Programs and Facilities that are currently operating as well as contact information. The Tribal Council strongly encourages that you call or email for an appointment also we ask for your patience with Programs that provide services to the membership as you may experience longer than normal wait times.
By taking these steps, our Tribal Administration is committed to protecting our Tribal Members and Community. In addition, Tribal Council and our Emergency Response Team have been working diligently with state and local officials and following CDC Guidelines, in order to protect our empoyee´s safety and the guidance to handling COVID-19 related complaints, referrals and COVID-19 testing amongst our membership.
Please continue to take preventive measures to keep you and those around you safe. Wash your hands for 20 seconds with soap and water, distance yourself from others, avoid touching your face, avoid those who are sick and use hand sanitizer containing 60% or more alcohol if water is not available.
These are trying and uncertain times and we would like to thank our membership, and dedicated employees for helping us take the preventive measures for the benefit of many. In the meantime, we will continue to pray for the health and saftey of everyone. If you show any symptoms please seek immediate care with your health care provider.
Stay Safe,
Quechan Tribal Council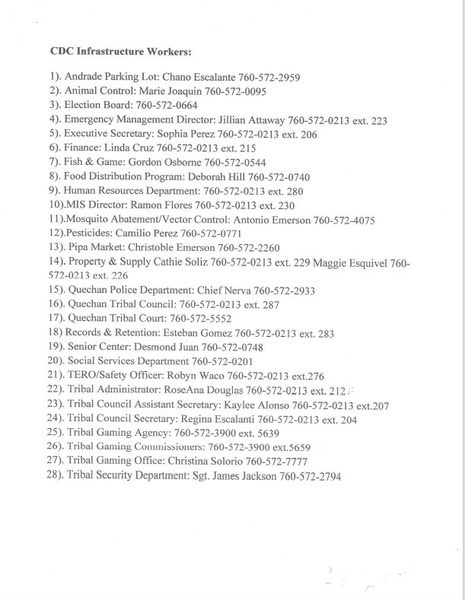 Download

Temporary Closure Notice
(688 KB)
Upcoming Events
---