Latest News
---
Back to Articles
Stay At Home Order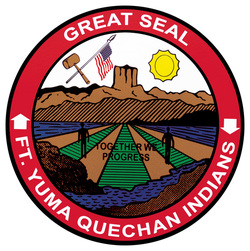 The Quechan Tribal Council and Emergency Management Team has seen an increase in COVID-19 cases and it's variants on the reservation. The Tribal Council recognizes the continued severity of this public health emergency and is concerned about the welfare of our tribal membership. We are committed to the on-going response to this unprecedented global pandemic.

Due to this recent development of the school closures, it is with the utmost urgency that the Tribal Council reinstates the Public Health Emergency "Stay at Home Order" requiring all residents of the Quechan Indian reservation to remain home and minimize contact to prevent the further spread of the COVID-19 coronavirus and its variants. We ask for you to only travel for essential items, medications and limit gatherings with each other to household members only. This will be in effect until further notice.
We all share the responsibility to protect ourselves and our community, we urge all members of our community to be diligent with the current safety guidelines. This will help reduce hospitalizations so that our healthcare providers and front-line responders can take care of those who need urgent medical attention. We must do our best to remember COVID-19 is extremely dangerous for our children, elders over 60 and those with pre-existing medical conditions, (such as diabetes, heart disease, and asthma).
The Emergency Management Team will be continually monitoring and re-evaluating changes in the pandemic affecting the community and tribal membership. Any changes in services provided by the Quechan Tribe will be forthcoming if necessary. Please routinely check the Tribe's website at QuechanTribe.com for updates. If you are in need of PPE materials please contact Mrs. Jillian Attaway, Interim Emergency Management Director at (928) 587-5524 or email at: emergencyadminassist@quechantribe.com.
The Tribal Council commits to continue the work on necessary protocol for business to maintain operations as this crisis continues. We all must do our part to slow the spread of this rapidly changing virus. At this time, we require adherence to the temporary "Stay at Home Order." The Quechan Indian Tribe continues to highly encourage getting vaccinated and boosted. To make an appointment at the Ft. Yuma Health Center please call (760) 572-4711. Vaccination is the best way to prevent serious illness, hospitalization, and death.
BE SMART, STAY SAFE, PROTECT OUR COMMUNITY

Quechan Tribal Council
Emergency Management Team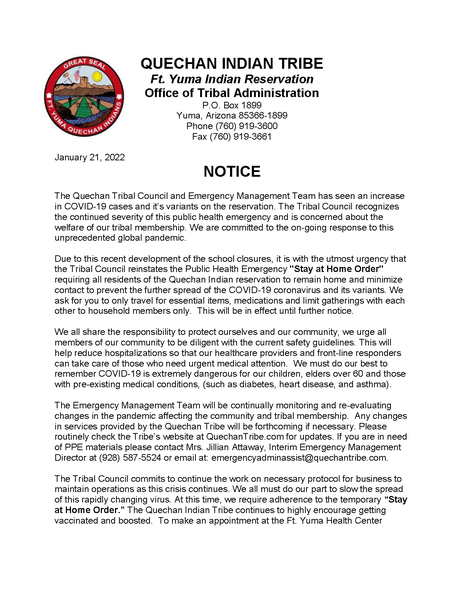 ---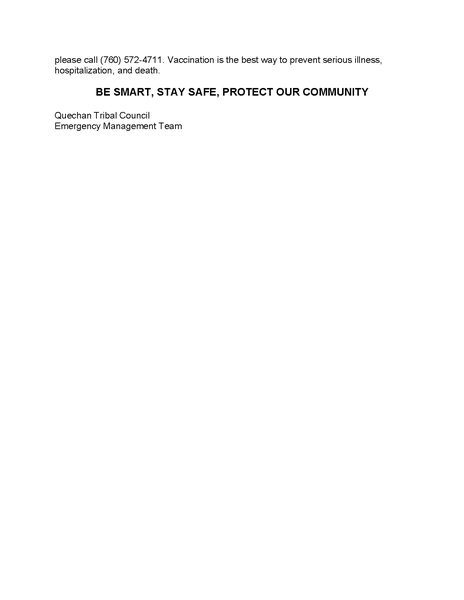 Download

Stay At Home Letter
(202 KB)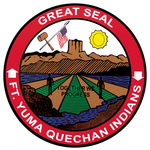 Upcoming Events
---