Latest News
---
Back to Articles
Quechan Newsletter for March 2023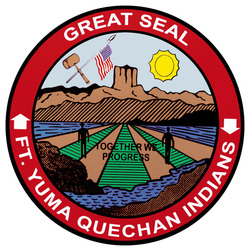 YOUR COUNCIL AT WORK
As of this publication your Tribal Council has been working for you for forty plus days. During that time, we worked together to review, debate, confer, gained knowledge of, and came to a consensus with a variety of issues and concerns.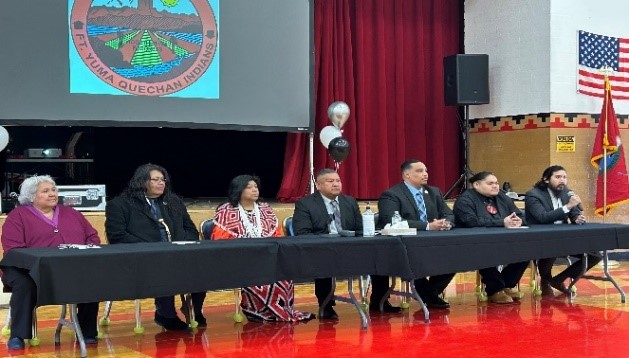 Once a week we have Work Session meetings. During that time a variety of actions, resolutions, billings, grants, budgets, solicitations, reports, concerns, land lease options (for tribe owned lots), and issues brought to the attention of the Tribal Council. At that time, directors, solicitors, agencies, and interested parties present their proposals to the Tribal Council. The Tribal Council then asks questions, seek clarification, and presents any concerns about the proposal. Some items are tabled for lack of complete information and are presented again at the next Work Session meeting. Once that is done the next step is a Special Meeting where the proposal is either approved or disapproved by a majority vote of the Tribal Council.
The last Work Session of the month Law Enforcement comes to give reports of what is going on in the surrounding area. This includes but is not limited to the Quechan Police Department, Quechan Fish and Game, Imperial County Sheriff's Office, the U.S. Border Patrol, U.S. Customs, Imperial Fire Department, and at times the California Highway Patrol and the Quechan Animal Control. This has resulted in cooperation with the agencies. We are kept informed of issues that may affect the tribe and tribal lands.
But that is only one day. Other days we are listening to tribal members concerns, committee reports, Casino Management meetings, virtual meetings, Indian Health Service joint meetings with the Cocopah Tribe, updating or revising policy and procedure, participation in local events, and helping, when possible, at these events. Our mindset is always serving the people in the best way possible. We are family because we are all Quechan. Together we progress!
CALIFORNIA GOVERNOR NEWSOME ANNOUNCES APPOINTMENTS
President Jordan Joaquin has been appointed to the Colorado River Board. The Board has existed for the past 75 years. Their purpose is to protect California's portion of Colorado River water supply. Kudos to President Joaquin he will have a seat at the table in protecting our water rights. He is the first Tribal representative to sit on the board since its inception. Congratulations!
President Biden Signs Proclamation
Chairman Timothy William of Fort Mohave invited President Jordan Joaquin to accompany him to the signing of a Proclamation to protect 500,00 acres of Avi Kwa Ame a sacred tribal site. The Proclamation ceremony took place at the Headquarters of the Department of Interior in Washington DC. Go to YouTube "Avi Kwa Ame to be designated…" to see the ceremony. Avi Kwa Ame is part our creation life."
Construction Continues at Paradise Casino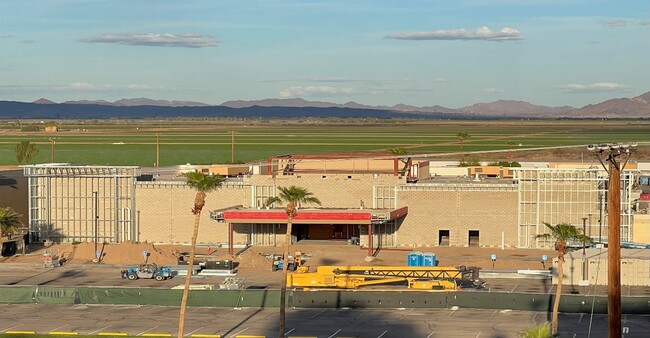 with completion possible by November 2023. Once completed the casino will house additional slot machines, an expanded gift shop, Coffee shop, update to the main entrance and the south entrance and add an additional bathroom.
HIGHER EDUCATION
Mission Statement
The Mission of the Quechan Indian Tribe's Higher Education/Adult Vocational Training Program is to provide quality educational opportunities, job readiness training skills, and promote personal self-sufficiency among the tribal membership.
Ms. Oralee Durand-Valisto is Director of The Quechan Indian Tribe Higher Education Department. The department services tribal members seeking to further their education by seeking scholarships for college, university, or vocational trade school.
Deadlines for Higher Education:
June 1st to receive funding for Fall.
November 1st to receive funding for Spring.
April 30th Summer School If funding is available.
Dates are subject to change due to unforeseen circumstances. When that occurs check the tribal website for details.
Deadlines for Vocational Training:
January 31st
April 30th
July 31st
October 31st
If the date falls on a weekend or holiday the application date will be extended to the following business day.
There is a process that begins by filling out an application and supplying all necessary documentation before the deadline. It is advantageous for the tribal members to begin the process at least 45 days (about 1 and a half months) before the deadline. The paperwork will then be reviewed by the staff members to determine that all documentation is received by the deadline. Once this is done, it is forwarded to the Higher Education Board Members who then determine from the documentation by a majority vote whether the scholarship is approved or disapproved.
APACHE STRONGHOLD VS. UNITED STATES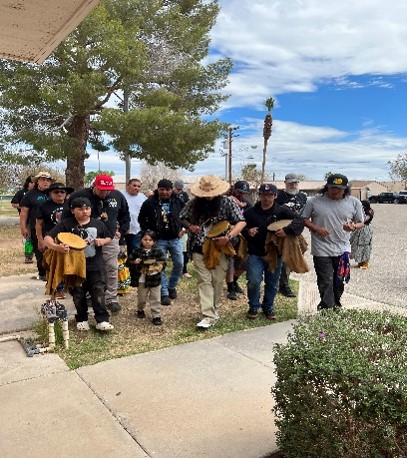 Oak Flats is a traditional sacred site for the San Carlos Apache tribe that has been invaded by a mining operations. The result of the mining enterprises will be the contamination of the water (a primary source for Lake Roosevelt), lands, animal, and plant life. The elimination of Oak Flats forever (it will be engulfed in an open pit mine)
For centuries the Apache have used this sacred ceremonial site for tribal traditional rights for Womanhood and Manhood.
In a case that will have been heard March 21, 2023, in Pasadena, California in the 9th Circuit Court. Each side has 30 minutes to plea for their cause.
Why is this important to us? This case will document the spirituality of sacred sites. The government is trying to negate our beliefs as well as religion in general by documenting spirituality does not exist. Spirituality is the hallmark of religion. For that reason, multiple religions are joining in the fight with the Apache along with other major tribes and non-native people. But we know as Native peoples our connection to the spirit world. We can feel it when we stand and view a sunset, the majesty of the desert, the power of water, the peace and tranquility of a forest, the singing of birds, and the howling of the coyote.
The Apache seek to save their sacred site from genocide it is a fight that is basic to all native tribes.
We were host to them on March14th with dinner and a room. On the 15th, they provided the tribal community an overview of their court case. Thanks to Zion White for taking the lead and making necessary contacts with the group.
If you would like to learn more about the people fighting and see Oak Flats go to YouTube look for "The Apache war against copper mining "this is an act of desecration" or "Oak Flats: A holy land worth fighting for."
Quechan Language Preservation
Kwatsaan Iiyaa
Phone Number: (760) 572-4412
Director Charlotte Hills languagedirector@quechantribe.com
Language Coordinator Juanita Rodriguez
Instructors:
Judith Osborne
Barbara Levy
Regina Escalanti
The Quechan Language Department is in the Education Complex along with Head Start, Higher Education Program, and the J.O.M. program.
Our language department is striving to effectively teach Quechan with a growing effort to incorporate technology into the program. Ms. Rodriguez has begun virtual language classes on some Saturdays.
During the week language classes are offered for those who can attend. There are numerous suggestions that a weekend slot be formed for those who work during the weekdays.
Miss Judith Osborne offers language by teaching pottery making, basket weaving, fry bread making as well as other skills to teach language. She explains in Quechan. She is skilled in many areas and teaches with ease and incorporates much of our history and meaning into her teachings.
Ms. Barbara Levy has a long history with the Language Department. She is one of the great storytellers of our tribe. She is an artist. She teaches doll making and instills her vast historical knowledge and wisdom in those who attend her class.
Ms. Regina Escalanti is a newcomer to the language program. She has lived on the reservation all her life. She comes from a family steeped in the Quechan language and traditions. She brings a wealth of knowledge to the program.
Ms. Charlotte Hills is a former college professor and leads the way to teaching language in a variety of ways. She has initiated two events. The first Language Event took place at the Education Complex. At the event Quechan language was taught using doll making, pottery, gourd making, and cooking. There were many inquiries wanting such events to be held on the weekend. Hopefully, that will happen.
The second event was held recently (March 10th) at Sun Rise Park at the Elder Village. A big highlight was making tortillas (tortii) with the help of Ms. Gail Johns, recreation coordinator for the Quechan Nutrition Site. Traditional songs were offered by Preston Arrowweed and his group. Some Tribal Council members were able to attend President Joaquin, and Councilmen Johnathan Koteen and Donald Medart Jr.
Mr. Chase Choate, Director for our Environmental Department, spoke about plants that are native to our area.
Barbara Levy ended the day with a traditional story.
Finally, a big "Thank You" to Mr. Michael Jackson Jr. and the Grounds and Landscaping crew for their outstanding job of cleaning up the area.
Tribal Economic Assistance Program
The Tribal Economic Assistance Program is now available. It has been available since February 21st and ends April 21st. The application can be accessed from the social services office as well as the Tribe's website. This assistance is in response to the current economic inflation situation occurring currently. A more detailed explanation is available on the website under the Social Services tab.
Quechan Emergency Management
The Quechan Emergency Management Office is currently transitioning. During this time, requests for services can be received by emailing d.medart@quechantribe.com or calling (928) 919-3374. Thank you.
A Message from the Pageant Committee
It is with great sadness that the Pageant Committee announces the departure of our current Miss Quechan, Royal Phipps. The Pageant Committee/Tribal Council have received and accepted a letter of resignation from Royal Phipps in her role as Miss Quechan 2022 – 2023. We wish her the best in her next endeavor.
We are looking for a new applicant to fill the role as Miss Quechan. Applications can be picked up Monday, March 27, 2023, to April 3, 2023, at the Tribal Administration Office. We will announce a later date for judging applicants.
NEWSLETTER
We will continue to gather information that is important to our tribal members. We hope this is newsletter shows the many aspects of Quechan Tribal Council's workday.
Our goal is to provide current information to keep you informed. Looking forward to updating and sharing new information next month.
Quechan Tribal Council.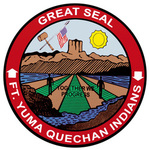 Upcoming Events
---