Latest News
---
Back to Articles
Quechan Indian Tribe President Jordan Joaquin Becomes First Tribal Representative To Sit On The Colorado River Board of California.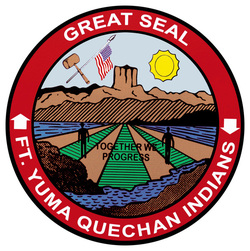 Jordan D. Joaquin, President of the Quechan Indian Tribe, has been appointed by Governor Gavin Newsom to fill a public member seat on the Colorado River Board of California.
"I want to thank Governor Newsom for this opportunity," President Joaquin said. "I have long been dedicated to serving the Quechan Tribe and the people of the State of California, as an elected tribal leader and during my career with the Imperial County sheriff's office. Over the past two decades, the Quechan Tribe has built important relationships with key Colorado River contractors including the Metropolitan Water District, and I look forward to bringing that spirit of partnership and creativity to my work on the Board as we strive to address the many challenges in the Colorado River Basin. California's example of bringing together a diverse collection of stakeholders, now including Indian tribes who have historically been excluded from Basin governance, is an important example of genuine collaboration that provides a valuable model for the entire Basin."
The Colorado River Board of California was established in 1937 to protect California's rights and interests in the resources provided by the Colorado River and to represent California in discussions and negotiations regarding the Colorado River and its management. Although Indian tribes hold some of the most senior water rights in California and throughout the Colorado River Basin, President Joaquin's appointment marks the first time a tribal representative has been named to serve as a member of the Board.
"As a public member of the Board, my task is to ensure that all Californians have a voice in the decisions that will affect the future of the Colorado River," said President Joaquin. "To that task, I bring my perspective as a tribal member and elected leader who knows what it feels like to have to fight for a seat at the table where key decisions affecting your water rights are made. Quechan people have relied on the Colorado River since time immemorial, and no task is more vital than ensuring that we have a living river from its headwaters to the Delta."
The Quechan Tribe of the Fort Yuma Indian Reservation currently occupies a portion of the Tribe's ancestral territory in what are now the states of California and Arizona. Encompassing 45,000 acres, the Reservation is bisected on the south by Interstate 8 (I-8), and Imperial Irrigation District's All-American Canal runs from its northeast to southwest corners. The Tribe's headquarters are located on the old Fort Yuma grounds in California, along the Reservation's southern boundary and directly across the Colorado River from the City of Yuma.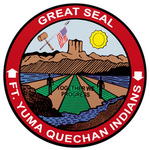 Upcoming Events
---