Latest News
---
Back to Articles
Picacho Road Bridge at Yuma Main Canal Barricades and Warning Signs Installed

On Tuesday, 04/17/2018, Imperial County Public Works staff completed the installation of barricades and related warning signage at the Picacho Road (S-24) Bridge over the Yuma Main Canal.
These safety measures were needed after a hit and run collision on the bridge occurred late Saturday night, causing extensive damage. After an inspection, Imperial County Public Works staff determined that with these safety measures in place, the bridge can remain open while repair planning and scheduling occurs.

Please note that the barricades reduce the width of the eastbound lane, creating a narrow bridge. The speed limit in the area is now reduced to 35 miles per hour.

Please use caution, pay attention to the warning signs, and drive safely around this construction zone. Updates regarding the repairs will be shared as more information is obtained.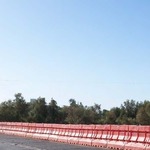 Upcoming Events
---