Latest News
---
Back to Articles
National Native American Heritage Month Celebration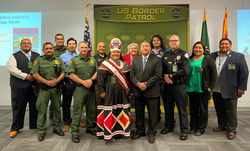 On Monday, November 18, 2019, The United States Border Patrol hosted both Quechan and Cocopah Tribes at the Yuma Sector Border Patrol Headquarters, for the National Native American Heritage Month Celebration.
The USBP Operations Officer and Tribal Liaison Leroy Pooley served as the Master of Ceremonies and gave the Welcoming Address for all visiting guests. The Yuma Sector Chief Patrol Agent Anthony J. Porvaznik spoke of his role with the Tribes and gave a heartfelt introduction for Guest Speaker, Jordan Joaquin; President of The Quechan Indian Tribe. President Joaquin greeted the attendees, revisited his years of serving as a Deputy and retiring as a Sergeant for The Imperial County Sheriff's Department, and spoke of his experiences with Border Patrol then and now as a Tribal Leader. President Joaquin said:
"The Partnership among the Border Patrol, Yuma Sector, is one I can be proud of. Whenever there is a need, a call for service, a call for help, The Border Patrol is always there for us. To the Men and Women of the Border Patrol: Yuma Sector and to all the Sectors throughout the Country, thank you."
Chief Porvaznik presented President Joaquin with a few gifts and a glass engraved desk plaque that reads:
"Quechan Indian Tribe President Jordan D. Joaquin – On behalf of the men and women of the Yuma Sector Border Patrol, thank you for being our guest speaker at the 2019 Yuma Sector National Native American Month Celebration. Honor First!"
Honored guests included: Chief Game Warden Gordon Osbourne, Quechan Chief of Police Kirk Nerva and Miss Quechan America Nerva. Quechan Tribal Council: Vice-President Virgil S. Smith, Councilmembers: Gloria L. McGee, Jonathan E. Koteen and Charles R. Escalanti. Cocopah Tribal Council: Vice Chairman J. Deal Begay and Councilmember Rosa J. Long, along with Cocopah Chief of Police Joe Jenkins.
A big thank you to Operations Officer Bryon Strom for preparing a great Tri-tip lunch for everyone!
Charles Escalanti,Quechan Tribal Councilmember.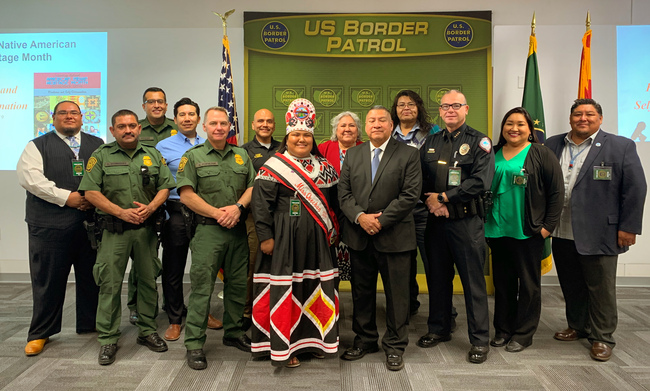 Photo credit: Juana Gyek (Cocopah Communications Specialist)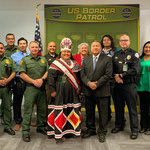 Upcoming Events
---