Latest News
---
Back to Articles
Miss Sycuan Powwow Princess 2019-2020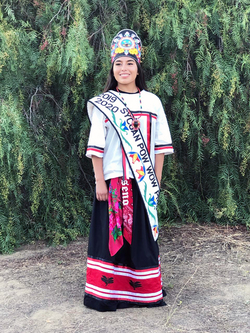 As reported by the Valley Road Runner in their September 18, 2019 issue: https://www.valleycenter.com/articles/local-woman-crowned-miss-sycuan-powwow-princess-2019-2020/
Nakelish Chaipos'Parada of the Rincon Indian Reservation was recently named Miss Sycuan Powwow Princess 2019-2020.
Chaipos'Parada is an enrolled member of the Quechan Indian Tribe and grew up on The Rincon Indian Reservation. Her parents are Candice Chaipos and Jason Parada.
On September 6 she entered into the Miss Sycuan Powwow Princess pageant and won. This contest is different from the average beauty contest because of its focus on culture, traditions and the importance of maintaining them for future generations.
The contest consists of essay writing, public speaking, traditional skills presentation (a cultural tradition from each girl's tribe and extensive knowledge on that tradition) dance contest ( either bird dance or powwow dance) and a private interview.
Chaipos'Parada told The Roadrunner, "I am the 6th princess to be crowned. The crown is in memory of Destiny Rose Muse, a beloved Sycuan tribal member. I am honored to be given the opportunity to hold a title such as this. I am looking forward to this new experience, guiding the youth in a positive direction and doing as much as I can to help the community. I will be making public appearance throughout this coming year as well as attending gatherings and powwows."
You can follow her on her Facebook page: www.facebook.com/nakelishchaiposparada/
On behalf of the Quechan Indian Tribe, Congratulations!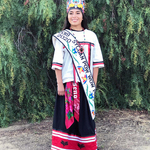 Upcoming Events
---