Latest News
---
Back to Articles
Miss Native San Pasqual Pageant 2019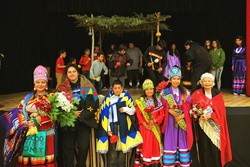 On Wednesday December 4, 2019, Parents, Grandparents, Family and Friends arrived at the Quechan Community Center for the 2019 - 2020 Strong Hearts Native Society's Miss Native San Pasqual Pageant.
The Pageant emcee for the event was Mr. Emilio Escalanti, who welcomed everyone in attendance and started the event with the Posting of Colors by Quechan Post 802, who were sang in by Mr. Vernon Smith, Jesse Escalanti, Vincent Tiger, Andre Polk and members of the Strong Hearts Native Society. The Pageant blessing was offered by the 2018-2019 Shiiyii (Grandmother) Ms. Brycea Parker, and followed by the introduction of the Elementary representatives – Pre-K: Max & Rohyl Manchatta –Thomas & Gavin Medart, T-K: Kylie Gilmore & Mathew Harper-Pappin, Kinder: Iris Lauranzana & Eliason Owl, 1st Grade: Nakari Brown & Aldouse Gilmore, 2nd Grade: Arianna PrettyBird & Adrian Montaldo, 3rd Grade: Lilo Ghiotto & David Valarde, 4th Grade: Unique Montaldo & Sao Juan and Middle School representatives – 6th Grade: Atiayana Pablo & Elijah Thomas, 7th Grade: Vatianna Owl & Jeremiah Nunn.
After the reps were introduced, it was time to honor and relieve the outgoing Shiiyii and Royalty. Outgoing Shiiyii Parker handed over the sash to incoming Shiiyii Ms. Lorraine White; Parker thanked the children and the Community for her time in the position of Shiiyii. Next the Outgoing Elementary Royalty: Chloe Short & Elijah Thomas gave short speeches of thanks, as well as the outgoing Middle School Royalty: Kieya Palone & Killian Comet.
Next Mr. Escalanti introduced this year's Miss Native San Pasqual & Kwenamii (Warrior Boy) contestants.
Elementary (talents): Ayiana Collins (2-step Bird & Pipa songs by Strong Hearts), Elan Medart (Bird & Pipa Songs with his brothers) & Uriah Ocegueda (Story Telling & Bird Song with Strong Hearts singers).
Middle School (talents): Jovi Barker (Bird & Pipa Dancing, songs by Zion White) & Trisha Castillo (Ah'keel songs, sang by Cristobal Emerson). There were no contestants for the Kwenamii.
High School (talents): Brina IronCloud (2 Bird dances and sang 1 Peon song with Ral Christman & Zion White) & Jacob Roosevelt (Men's Dancing and singing with Strong Hearts singers).
All the contestants performed well, had excellent presentations and exhibited a strong pride and knowledge of their Culture… but there could only one winner of the respective crowns:
Ms. Native San Pasqual Elementary & Kwenamii: Aiyana Collins & Elan Medart
Ms. Native San Pasqual Middle School: Trisha Castillo
Ms. Native San Pasqual High School & Kwenamii: Brina IronCloud & Jacob Roosevelt
The night's event was concluded with closing songs by The Strong Hearts Native Society.
Charles Escalanti
Quechan Tribal Council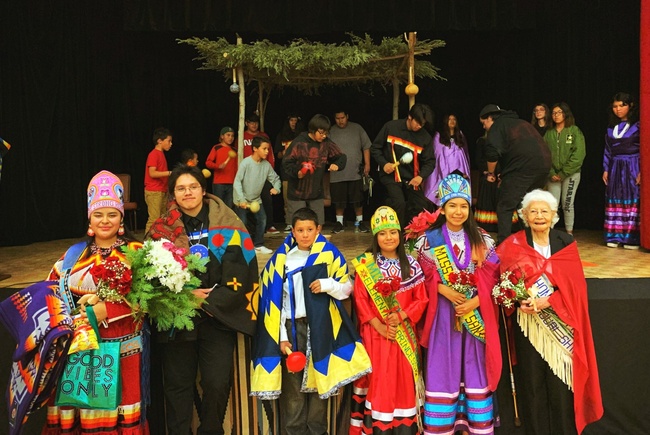 Photo Credit: Adam Emerson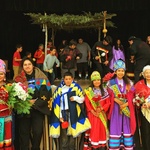 Upcoming Events
---