Latest News
---
Back to Articles
In Honor Of Claudette C. White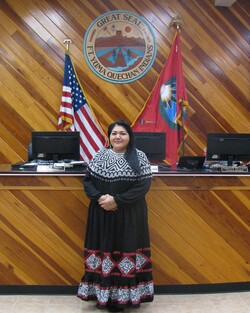 With heartfelt sadness, the Quechan lndian Tribe announces the passing of the Honorable Councilwoman Claudette C. White; we mourn the loss of this great leader and pray for her family and loved ones. She demonstrated true love for her family and unwavering dedication to her community.
White passed away on Saturday, February 6, 2021, after a short battle with the coronavirus (Covid-19). White was sworn in as a Quechan Tribal Council Member on January 4, 2021. We stand together in strength and love for the family, our community, and many other tribes and families battling the challenges and losses faced as a result of the coronavirus pandemic.
We pay tribute to White's legacy and longstanding heart of service as we recognize her work, love and support for our tribe and indigenous people all over the land. We also recognize her heart and "commitment to culture and community."
White's history of service to the Quechan Tribe included: Paradise Casino General Manager, Quechan Tribal Court - Chief Judge, Census worker, and most recently, Quechan Tribal Councilwoman.
White was a tremendous resource for the Quechan Tribe, its people, and Indian Country. In addition to the Quechan Tribe, she served many tribal nations as an advocate and proponent for justice. As Chief Judge for the Quechan Tribe, she handled many cases that consisted of family and close members. She incorporated innovative concepts in court by utilizing tribal customs and traditions and focusing on alternatives to standard punitive measures. She served as Quechan Tribe Chief Judge and a number of tribal courts in Arizona as trial and appellate judge, and served as Chief Judge at San Manuel in 2018.
She was also known as a knowledgeable source on Missing and Murdered Indigenous Women and Girls, and injustice around the country; she helped many tribal and non-tribal people with her support, and shared her wealth of knowledge with many. She served eloquently and boldly and will be remembered as an agent of change and support.
We honor the legacy and life's work of Claudette C. White and ask that you remember all that she shared and poured from her heart. We thank you for your outpouring of support and care shown to the family and our tribe.
Jordan D. Joaquin, President
Quechan Tribal Council
---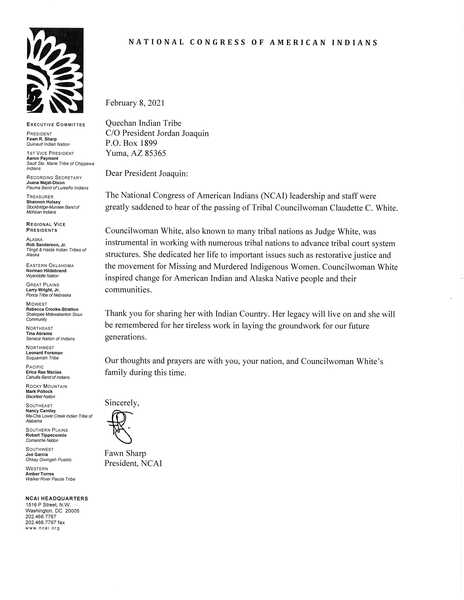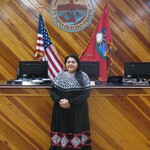 Upcoming Events
---