Latest News
---
Back to Articles
IMPERIAL COUNTY HEALTH OFFICER RECOMMENDS INDOOR MASKING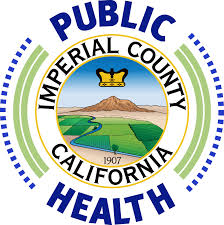 IMPERIAL COUNTY –County of Imperial Health officials are cautioning residents regarding the recent increase in COVID-19 cases throughout the State of California. Over the past week, California has averaged 2,678 new cases and 23 new deaths per day. Due to the statewide increase in COVID-19 cases, the Imperial County Health Officer, as a proactive and precautionary measure, strongly recommends the use of masks/face coverings indoors in Imperial County, regardless of vaccination status. In Imperial County, there has been an increase in cases, primarily in children 17 years and younger. Children 0-17 make up about 28-29% of Imperial County cases in the past two weeks. Variants of concern continue to be followed closely. There was no increase in Beta or Delta variant cases in Imperial County from last week; they remain at 1 and 2 total cases, respectively. There was an increase in Alpha and Gamma cases; current totals are 69 and 100, respectively.
The current California Department of Public Health (CDPH) masking order requires individuals who are not vaccinated to wear face coverings in indoor public settings. In addition, everyone, even if vaccinated, is required to wear a face-covering in healthcare settings, jails, public transportation, and youth settings, including schools.
Those who are not vaccinated or partially vaccinated remain vulnerable to the COVID-19 virus. Vaccinations have proven to be effective against variants of COVID-19, including the Delta variant, slowing the rate of spread and preventing severe symptoms. COVID-19 vaccines are available for individuals 12 years and older and easily accessible at many provider sites throughout Imperial County, including health care offices, hospitals, community clinics, pharmacies, as well as the Imperial County Public Health Department. To locate a vaccine site near you, visit VaccineFinder at http://vaccinefinder.org. To make an appointment through California's MyTurn system, visit https://myturn.ca.gov or call (833)-422-4255.
Additionally, Imperial County residents are urged to continue to follow COVID-19 safety precautions, including frequent handwashing, maintaining appropriate distance in public, and staying at home when sick.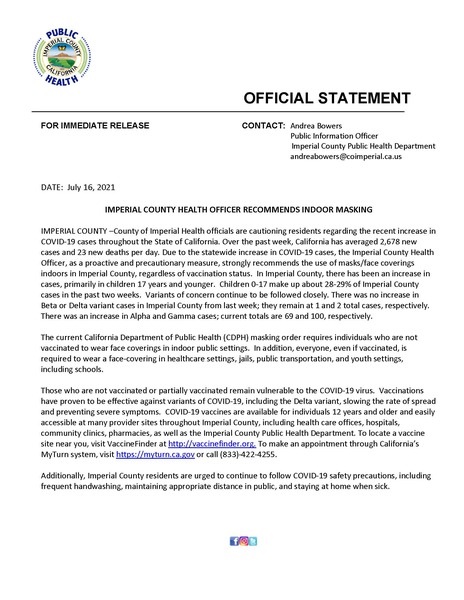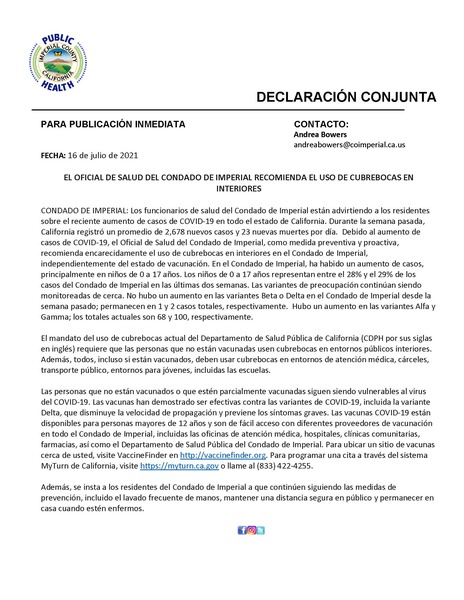 Download

Official Statement - English
(362 KB)
Download

Official Statement - Spanish
(388 KB)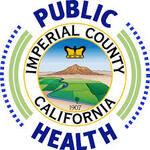 Upcoming Events
---