Latest News
---
Back to Articles
Headstones Desecrated At Quechan Cemetery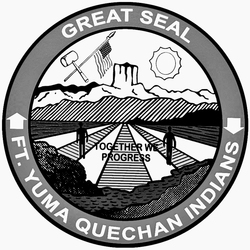 The Quechan Tribal Council was notified that in the early morning hours of July 28, 2021, someone had desecrated a total of 70 grave markers and headstones in our cemetery. The Tribal Council is outraged and shares the feelings of those families that were directly affected.
The Quechan Tribal Council wishes to inform those families that have had their family markers desecrated, the Tribe will help to restore the markers. Please contact the Tribal Secretary at (760) 919-3600 extension 204.
The Quechan Tribal Council is working on provisions to better secure the area, and will be immediately implementing the following:
Cemetery closure from 10:00 PM to 6:00 AM (Until further notice).
Traditional singing will be implemented to heal the disturbance beginning at 6:00 PM until sundown today (7/28/21).
Security to be posted just outside of the cemetery (Until further notice).
Anyone in the area during the early morning hours may be stopped and questioned.
Securing higher fencing around the perimeter of the cemetery as well as more lighting within the area.
In closing, the Quechan Tribal Council reminds everyone that as tribal members of the Quechan Tribe, it is our duty to protect the final resting place of our loved ones. We ask that families educate each other that the final resting place will be held in high regard and not be subject to any disrespectful actions. The Quechan Tribal Council is working with local law enforcement and anyone with additional information to please contact the Quechan Police Department at (760) 572-2933. You may remain anonymous and any information given will be kept confidential. Anyone caught committing such actions will be subject to an arrest and prosecution.
Thank you.
Jordan D. Joaquin, President
Virgil S. Smith, Vice President
Tribal Council
Download

Vandalism Notice
(101 KB)