Latest News
---
Back to Articles
Covid-19 Relief Program Update
The COVID-19 Relief Program is aware that some of our members received an application in the mail after they may have already applied. This is due to a courtesy from the COVID-19 Relief Program to reach out to the out of town members that may have not been able to have access to our website to retrieve an application or information pertaining to the COVID-19 Relief Program. If you received an application and you already applied, please disregard the additional application that you received. Thank you and we sincerely apologize for any confusion this may have caused.
Contact info:
Phone:
(760) 572-0122
(760) 572-0123
Fax:
(760) 572-0124
Email:
covidrelief@quechantribe.com
covidreliefclerk1@quechantribe.com
covidreliefclerk2@quechantribe.com
THANK YOU FOR YOUR CONTINUED PATIENCE!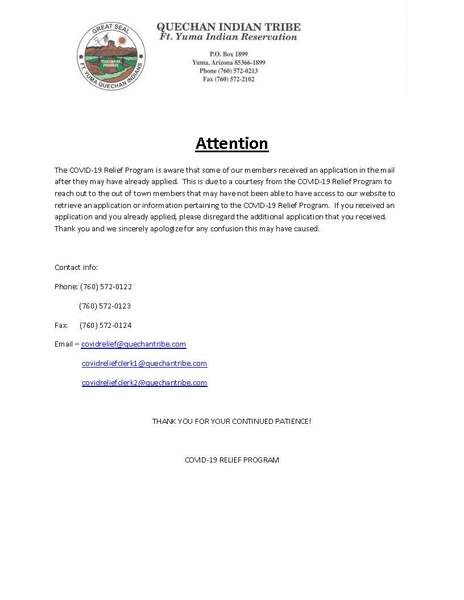 Upcoming Events
---