Latest News
---
Back to Articles
Council Rescinds Stay At Home Order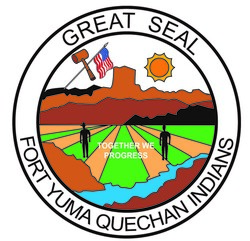 On April 21, 2021, The Quechan Indian Tribe re-issued an urgent notice recommending all members to stay at home due to the COVID-19 pandemic. As the Tribal Council, Emergency Management team and Indian Health Services have been continuously monitoring the local and surrounding areas, we have noticed the effects of the continued efforts of Tribal members and local communities that have greatly contributed to reducing the spread of COVID-19.
After the review of information provided from the Fort Yuma Indian Health Clinic and the surrounding areas on hospitalizations, new cases, and those in the ICU, the Quechan Tribal Council has made the decision to rescind the Stay at Home Order effective April 13, 2022 due to the declining rate of the positive cases in our area. Although there has been a reduction in positive cases we should remain vigilant by continuing to follow CDC guidelines on how to properly wear face coverings, social distancing, staying home if feeling ill, washing hands frequently, and covering ones nose and mouth when coughing/sneezing to prevent the continued risk of COVID-19 to the greatest extent possible.
At this time, we would like to inform you on the next phase of the reopening of certain Tribal enterprises and programs that a large number of our membership have been inquiring about.
Tribal Operations/Departments/Programs/Administration Building: ALL tribal buildings will continue to follow the mask mandate and social distancing. In effort to reduce face to face contact, some departments will operate by appointment only and follow CDC guidelines on capacity levels within the office.
Parks and Recreation: Open gymnasium hours from 8:00 AM to 8:00 PM Monday through Friday, See calendar of events posted on the Tribes website available this week.
Wellness Center: The Wellness Center hours are Monday through Thursday 6:00 AM to 8:00 PM, Friday 6:00 AM to 5:00 PM, Saturday 9:00 AM TO 2:00 PM. All days will be operating with limited capacity following CDC guidelines. The Diabetes Walking Park hours will be from 6:00 AM to 8:00 PM every day.
Camping/Fishing/Hunting: Outdoor activities maintained by the Quechan Fish and Game Department will continue.
Tribal Vendors: Tribal members with current permits will be allowed to sell using the food vendor's area with a current food handler's certificate. For further information, contact the Economic Development Administration office.
Funeral Services: All funerals will remain at the adjusted times we have been following until further notice. Amenities will be provided at the request of the family.
Tribal Operations: Some Tribal departments will continue to operate with the essential workers currently working until further notice.
Community Events: Attendance is voluntary for all events. Appropriate safety measure for each particular event will be followed.
The Quechan Tribal Council commends and thanks our membership, community and Tribal employees on doing their part in reducing the positive COVID-19 cases to protect our families, elders and children by getting vaccinated, wearing PPE and following all safety protocols issued by the CDC. We continuously commit to work on updating necessary protocol for business in order to maintain in operation as the crisis continues.
The Quechan Indian Tribe continues to highly encourage those who are eligible to get vaccinated and boosted. The COVID-19 vaccines are readily available at the Fort Yuma Indian Health Clinic and you can make an appointment by calling (760) 572-4711. Vaccination is the best way to prevent serious illness, hospitalization, and death.
If you require assistance with Covid-19 needs or have requests for Personal Protection Equipment (PPE), please contact Emergency Management Director, Jillian Attaway, at emergencyadminassist@quechantribe.com, or (928-587-5524).
BE SMART, STAY SAFE, PROTECT OUR COMMUNITY
Thank you,
Quechan Tribal Council
Emergency Management Team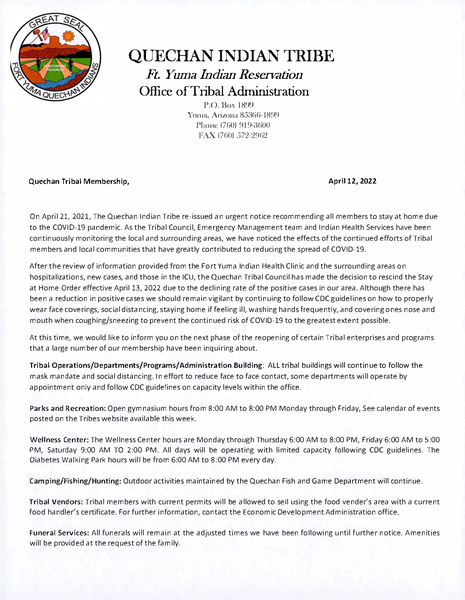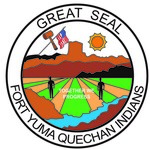 Upcoming Events
---