Latest News
---
Back to Articles
Catherine Cathie (Padilla) Soliz August 22, 1953 – July 15, 2021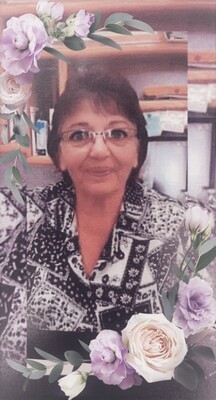 While it is heartbreaking to think about Cathie Soliz leaving us too soon, she left behind a legacy we can celebrate. Cathie was always ready for what the day had in store, she would be the go to person for the staff when it came to supplying us with the tools needed to get our work done. From the cellphones we used for communication to the fleet of cars used for transportation. Even the keys to open the doors to the offices and buildings all we worked in.
Cathie made the office more festive during the Christmas season. From the wreaths on the office doors to the 12 foot tree and the decorations throughout the building that made the Tribal Administration building feel festive.
To many she was more than just a co-worker, she was a friend too that would take the time in her busy day to sit and listen to you when you needed someone to talk to.
Cathie passed away on Thursday, July 15, 2021. Even to this day it is news that is still hard to accept. September of this year would have been her 25th anniversary as an employee of the Quechan Indian Tribe. Cathie was the Heart and Soul of the Property and Supply department. Her time here will always be remembered.
Our thoughts and prayers go out to her family and loved ones. And our thanks for the time she gave us here at work to help and support not just the staff but also the community and membership.
Services will be held on Saturday, August 7, 2021 at 10:00 A.M. Neumann Catholic Church, 11545 E. 40TH Street, Yuma, AZ 85367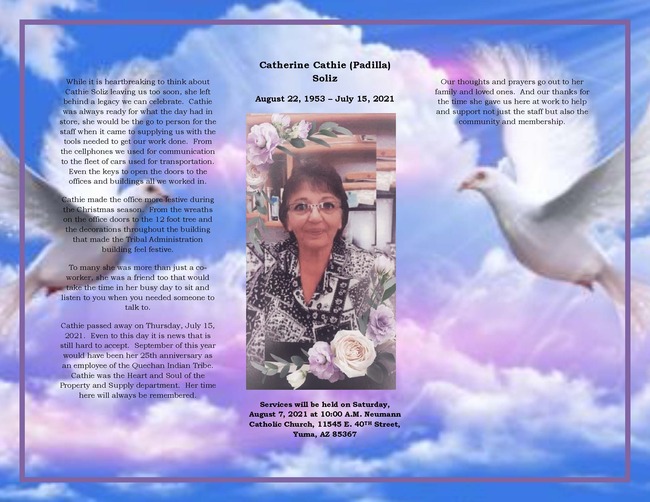 Download

Cathie Soliz
(161 KB)