Latest News
---
Back to Articles
Bureau of Trust Funds Administration (BTFA) Colorado River Agency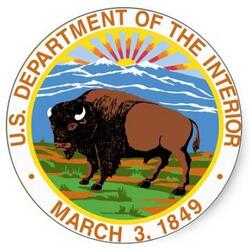 In light of the evolving situation concerning the Corona virus (COVID-19), we are working to maximize safe environments for the public and our staffby implementing substantial mitigation strategies at our office. Per the CDC, social distancing is paramount in reducing the spread of the virus. To limit direct contact between individuals, public access to the office will be limited .
We are available at the office hours posted below, or you may contact the staff below to schedule an appointment on Monday's. Please provide our office advance notice.
OFFICE HOURS: Monday - By Appointment Only Tuesday thru Friday 7:30 AM - 4:30 PM
Please contact:
Susan Eddy, (928) 575-3590; Renelda Paya, (928) 575-3602 Sylvia Loya, Fiduciary Trust Officer (505) 362-2586
OR send email to:
BTFA A Colorado River@btfa.gov.
You may also contact the Trust Beneficiary Call Center at (888) 678-6836 for assistance
NEW Mailing address:
Bureau of Trust Funds Administration Attention: Colorado River
P.O. Box 26928
Albuquerque, NM 87125
For leasing, lease income, probate and social services related issues, please contact the Bureau of lndian Affairs Colorado River at (928) 669-7111 or Fort Yuma Agency at (928) 782-1202.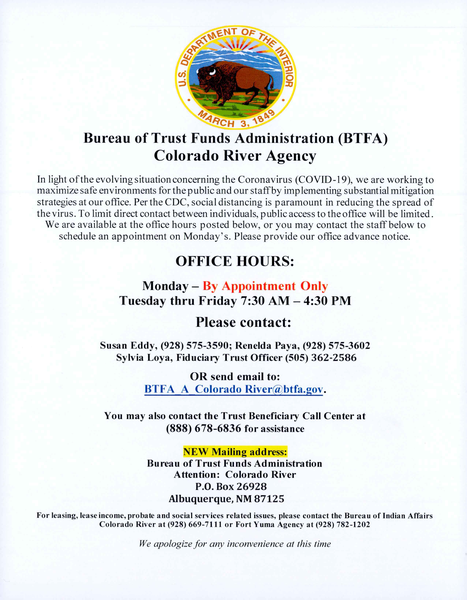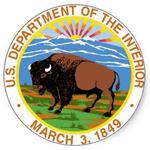 Upcoming Events
---