Latest News
---
Back to Articles
Announcement To Quechan Tribal Members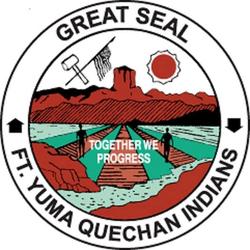 With the recent rise in confirmed Covid-19 cases on the Ft. Yuma Indian Reservation, the Quechan Tribal Council has determined it necessary to close the remaining essential programs of The Tribal Administration with the exception of the following: Quechan Police Department, Security, Fish & Game, Animal Control and Tribal Gaming Office. The Quechan Utilities Department will be on call for emergencies, and will continue ensuring the functioning of lift stations. The closures will begin Monday, June 22, 2020 through Monday, July, 6, 2020.
Programs that provide Services to the membership such as Food Distribution, Pipa Market, Senior Nutrition and Tribal Court will be at limited operations, the adjusted hours and contact information are available on the Quechan Tribe website. Quechan Paradise Casino will still be in Operations, and under careful watch by the CEO and Management Team.
During this time it is strongly recommended that the membership adhere to the Stay at Home Order that was sent out on April 7, 2020 that is still in effect. The Quechan Tribal Council will be working to enforce more stringent deterrents to those that continue to disregard the current Stay at Home Order as well as any future orders, restrictions and ordinances the Quechan Tribal Council passes to protect the health and safety of its membership and community. The Tribal Council will also continue working on budgeting and finalizing decisions that need to be made with the CARES Act funding.
In closing the Quechan Tribal Council has heard your concerns and wants to assure you every effort is being made to help slow the spread of COVID-19, in hopes to prevent any future cases. We are requesting your help and responsibility by practicing social distancing, wearing masks and to wash your hands or sanitize as much as possible when soap and water is unavailable. If you feel you are experiencing symptoms, please contact IHS or your medical provider immediately, self-quarantine if there is a waiting period for your appointment or pending results. All medical providers and testing areas will provide you the necessary literature and information, as well as after care steps. For those who are positive and need assistance, the Tribe and I.H.S. are working in collaboration with the American Red Cross and Salvation Army to provide meals and essential materials. For any Covid-19 or emergency response call the point of contact for the Tribe is Jillian Attaway, Interim PHEP at (760) 572-0213 ext: 223 or (928) 587-5524 (Strict CONFIDENTIALITY will be adhered to).
TOGETHER AS A NATION WE CAN STOP THIS VIRUS FROM CONTINUING TO SPREAD.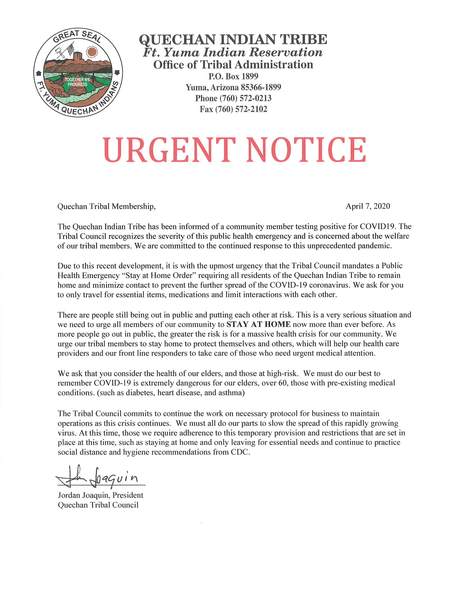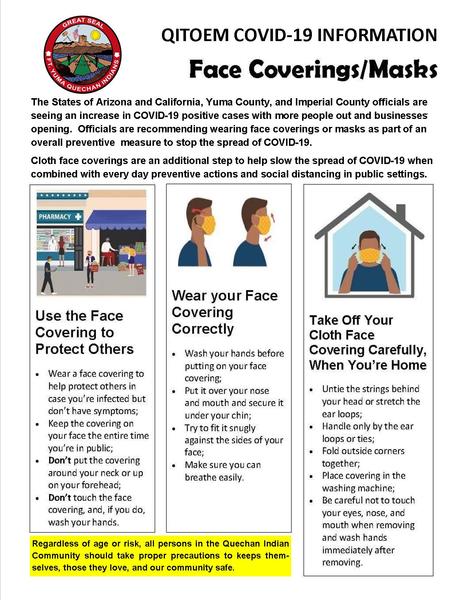 Download

Announcment
(378 KB)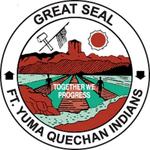 Upcoming Events
---