Latest News
---
Back to Articles
2021/2022 Quechan Tribal Council Inauguration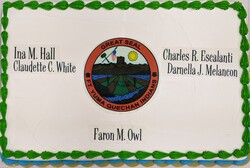 On Monday, January 4, 2021 the 2021/2022 Quechan Tribal Council was inaugurated by Chief Game Warden Gordon Osborne. The five council members sworn in are newly elected Council Members, Faron M. Owl, Claudette C. White, and Darnella Melancon with two returning incumbents Charles R. Escalanti and Ina M. Hall.
The ceremony opened with two songs performed by Zion White. His songs were titled Urav (Lightning) and Tsiier. Ms. Barbara Levy then gave her blessing to the new council before they took their oath of office.
The Quechan Indian Tribe swore in (3) new tribal council members and (2) council incumbents on Monday January 04, 2021. Though the tribe wanted to hold its normal inauguration which included a general invitation and open participation from the Quechan Community, COVID-19 created restrictions with regards to participation and limited the inauguration to only the elected tribal council officials, an elder who offered prayer and a few tribal singers.

Tribal elections were held on December 07, 2020 and even through a pandemic period there was a decent voter turnout out, 475 walk-in votes and 71 absentee ballots were received during the tribe's general elections.


This election saw a high number of candidates as 19 candidates were certified to be on the Quechan election ballot. The candidates had various platforms ranging from health care, housing development, pandemic response, culture, tradition and language preservation, transparency and communication were among some of the platforms.
Those elected and sworn into office were Faron Owl receiving the highest votes at 313, Claudette C. White 287, Darnella J. Melancon 251, Ina M. Hall 211, and Charles R. Escalanti 184. Quechan Tribal President Jordan D. Joaquin said, "I congratulate the newly elected council members. I thank them for their dedication and sacrifice to represent the Quechan Indian Tribe"
The tribe's top two Executive officers President Jordan D. Joaquin and Vice-President Virgil S. Smith serve four-year terms, and their seats were not up for this past election. The five council seats are up for election every two years.

Zion White performs two songs and Barbara Levy gives her blessing before the elected Quechan Tribal Council members are sworn in by Chief Game Warden Gordon Osborne.

Zion White performs two songs to close out the inauguration ceremony.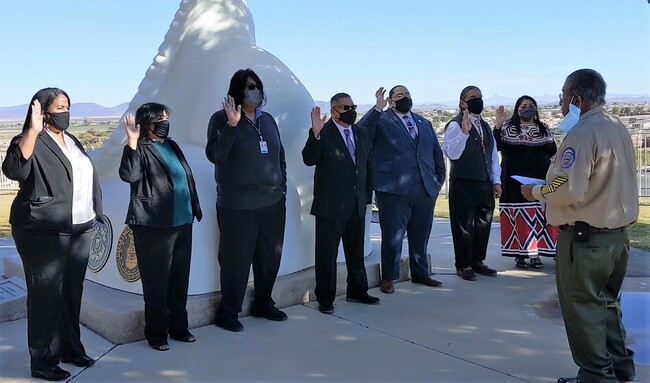 Chief Game Warden Gordon Osborne swearing in the Quechan Tribal Council members (pictured from left to right: Darnella Melancon, Ina M. Hall, Vice-President Virgil S. Smith, President Jordan D. Joaquin, Charles R. Escalanti, Faron M. Owl, and Claudette C. White