Announcements
---
Back to Announcements
SPVUSD Meal Service Change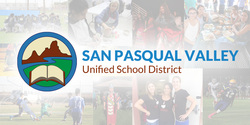 BEGINNING OCTOBER 5, 2020, SPVUSD MEAL SERVICE WILL CHANGE
Every Tuesday from 7:30 AM to 9:00 AM – SPVUSD will now be serving 7 days' worth of breakfast, lunch, and dinner.
• Your children do not need to be with you.
• Students can pick up their own meals as long as they are wearing masks. • We can serve any children in the community who are 0-18. If a student is enrolled at San Pasqual and is 19, they will be served.
• Service will be at 4 locations:
o Cafeteria
o New Sub Park
o Old Sub Park
o Winterhaven Sheriff's New Substation
• Please wear a mask when picking up meals. • You will be asked how many children are in your family.
• Please remember:
o Cold Food: Refrigerate as soon as possible or within 2 hours maximum.
o Frozen Foods: Place in freezer immediately
o Cooking Instructions: Remove packaging and cook in microwave or oven until 165 degrees. Follow all cooking instructions on packaging.

A PARTIR DEL 5 DE OCTUBRE DE 2020, EL SERVICIO DE COMIDAS DE SPVUSD CAMBIARÁ

Todos los martes de 7:30 a. M. A 9:00 a. M., SPVUSD ahora servirá desayuno, almuerzo y cena para 7 días.
• Sus hijos no necesitan estar con usted.
• Los estudiantes pueden recoger sus propias comidas siempre y cuando usen máscaras. • Podemos servir a cualquier niño de la comunidad que tenga entre 0 y 18 años. Si un estudiante está matriculado en San Pasqual y tiene 19 años, se le atenderá.
• El servicio estará en 4 ubicaciones:
? Cafetería
? El parque en el Nuevo Sub
? El parque en el Old Sub
? Nueva subestación del Sheriff de Winterhaven
• Por favor use una mascarilla cuando recoja las comidas. • Se le preguntará cuántos niños hay en su familia.
• Por favor recuerde:
o Comida fría: Refrigere lo antes posible o dentro de las 2 horas como máximo.
o Alimentos congelados: colóquelos en el congelador inmediatamente
o Instrucciones de cocción: Retire el empaque y cocine en microondas u horno hasta 165 grados. Siga todas las instrucciones de cocción en el empaque.
San Pasqual Valley Unified School District Stacey Garcia, Cafeteria Manager sgarcia@spvusd.org

Schedule is subject to change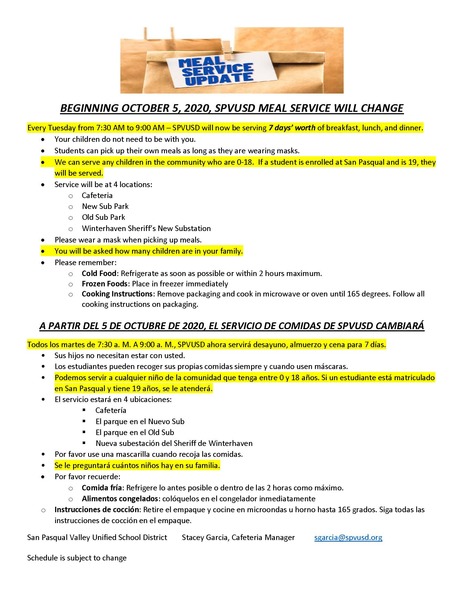 Upcoming Events
---