Announcements
---
Back to Announcements
Smoke Advisory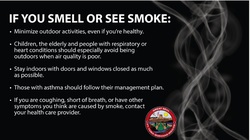 If you smell or see smoke:
Minimize outdoor activities, even if you're healthy
Children, the elderly and people with respiratory or heart conditions should especially avoid being outdoors when air quality is poor.
Stay indoors with doors and windows closed as much as possible.
Those with asthma should follow their management plan.
If you are coughing, short of breath, or have other symptoms you think are caused by smoke, contact your health care provider.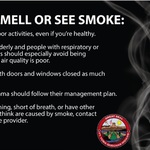 Upcoming Events
---