Announcements
---
Back to Announcements
Safer Ways to Celebrate Spring Events and Holidays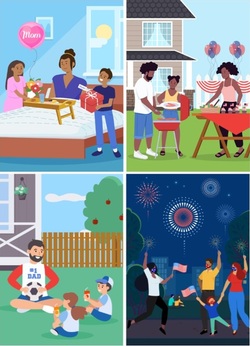 Attending gatherings to celebrate events and holidays increases your risk of getting and spreading COVID-19. The safest way to celebrate this year is virtually, with people who live with you, or outside and at least 6 feet apart from others. For information on what fully vaccinated people can do, see the CDC's When You've Been Fully Vaccinated page.
Decorate your home with holiday themed items and banners.
Host a video chat party with family and friends to share in the celebration.
Plan a special meal inspired by the holiday or event.
Have an outdoor celebration with everyone at least 6 feet apart and wearing masks.
Watch virtual events and celebrations.
If you plan to celebrate with others, outdoors is safer than indoors.
Holiday Travel
Travel may increase your chance of spreading and getting COVID-19. CDC recommends delaying travel until you are able to get fully vaccinated. If you travel, you should still take steps to protect yourself and others. You will still be required to wear a mask on public transportation. If you are considering traveling for a holiday or event, visit CDC's Travel page to help you decide what is best for you and your family.
Avoid crowded, poorly ventilated indoor spaces
As much as possible, avoid crowds and indoors spaces that do not offer fresh air from the outdoors. If indoors, bring in fresh air by opening windows and doors, if possible.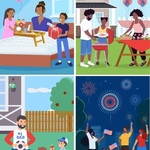 Upcoming Events
---