Announcements
---
Back to Announcements
2023 Minority Enterprise Development Awards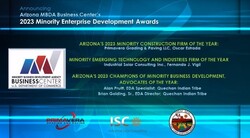 The Arizona Minority Business Development Agency (MBDA) recently honored Arizona's 2023 Champions of Minority Business Development Advocates of the Year. This prestigious award recognizes individuals or organizations with significant milestones in advocating for minority business enterprises. The Minority Business Development Agency (MBDA) is a bureau of the U.S. Department of Commerce. It's the only federal agency dedicated to helping minority-owned businesses grow and compete globally. The Arizona MBDA is operated by the Arizona Hispanic Chamber of Commerce Foundation.
This year's awardees, Brian Golding, Sr., EDA Director, and Alan Pruitt, EDA Specialist, have demonstrated exceptional dedication to the cause of advocating for minority business development. Their relentless passion and commitment have established the first-ever business incubator for Native American-owned businesses in the Southwest region. This business incubator will play a crucial role in supporting the growth and success of Native-owned business enterprises on the Reservation.
In addition to their work on the business incubator, Brian and Alan have championed critical issues and forged strategic partnerships with organizations like the Arizona MBDA. Their advocacy has contributed significantly to the empowerment of Tribal entrepreneurs.
The Arizona MBDA proudly honors Brian and Alan for their remarkable societal and economic contributions. They have proven that advocacy, driven by passion and a genuine desire for positive change, can lead to transformative outcomes.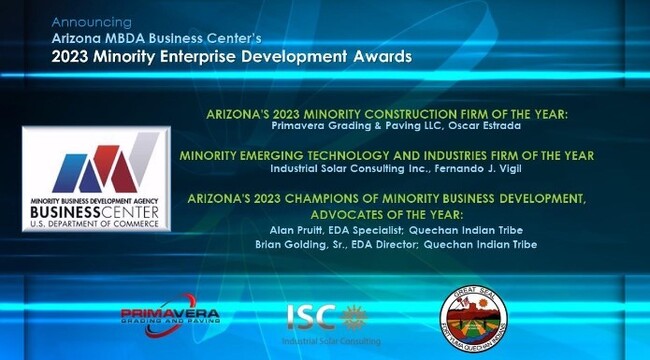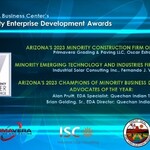 Upcoming Events
---