Events
---
Back to Events
Nov
22
2023
4:30 PM
to 6:00 PM
ADAPP Thanksgiving Dinner
Events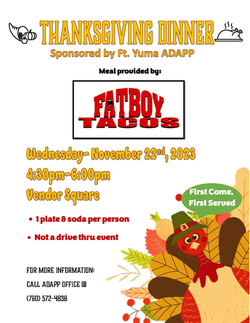 The Fort Yuma ADAPP Thanksgiving Dinner will be held on Wednesday, November 22, 2023 from 4:30 pm to 6:00 pm at the Vendor Square.
One plate per person. This in not a drive thru event. First come, first served.
Meal provided by Fatboy Tacos.
For more information call the ADAPP office at (760) 572-4838.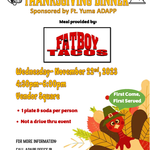 Upcoming Events
---