Latest News
---
Back to Articles
Tribal Census Escort
I am QUECHAN and I Count!
Welcome our first team member to CENSUS 2020 California Counts team for the Fort Yuma Indian Reservation – Quintin Barley.
Quentin is an employee of the Quechan Indian Tribe, with special detail assignment to the Quechan Count team! Quentin will be facilitating all Census 2020 activities and escorting Census Takers while they do enumeration. Please welcome him.
Pay attention to how you can win prizes and an awesome I AM QUECHAN AND I COUNT tees!
You may contact the Quechan Count Team at:

Allyson Collins, Project Manager
(760) 572-0213 Office
(928) 550-0178 Cell
grantswriter@quechantribe.com
or
Quentin Barley, Tribal Census Escort
(760) 572-1242
parksandrecdirector@quechantribe.com
they will be located at:
Quechan Count Team HQ
Quechan Community Center
604 Picacho Road
Winterhaven, California 92283
760-572-1242
CENSUS 2020! Take it! my2020census.gov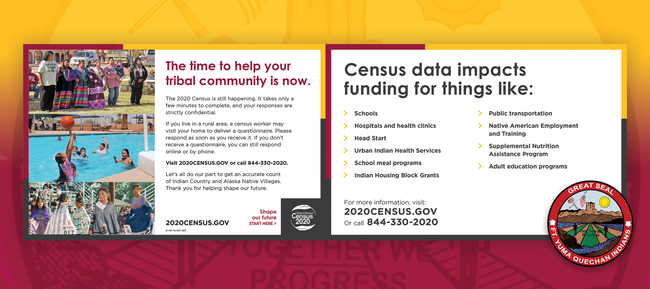 Upcoming Events
---